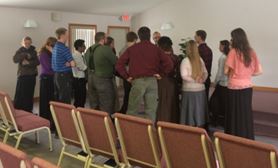 We spent about ten days, a few weeks ago, at Cornerstone Bible Institute in Hot Springs, SD.  Rich was the speaker for the first week of their annual Bible Conference. During the 19 hours of regularly scheduled time, and an additional two hours of optional teaching (always looking for a little more time), he worked through Genesis chapters one to three, plus three other sessions – which included:  The Star of Bethlehem, The Creation of Angels, and Evolution, The New Age, and other False Religions.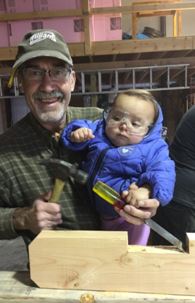 We had a great time interacting with an eager student body.  You can see by the picture (to the above right) that many students had questions, and we had many lively discussions during breaks and lunch time.
During the first three days of the next week, ministry took a much different form, as Rich helped a mission team from Cambridge, ID, build bunk beds for the men's dorm. This team included our daughter and her husband, Claudia and Keith, and their industrious (notice her with safety glasses – picture above left) daughter, Karina.  Grandma's (My) job was to babysit while the team was building.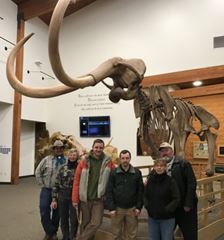 It was a tough job, but somebody had to do it! It was a productive week and eleven bunk beds were built.
Along with the building project, Rich was able to give the group a creationist perspective at a tour through the local Mammoth site.  He was also able to give some creation talks on geology and astronomy in the afternoons and evenings. It was a profitable week in both areas of building and teaching.
Sue Stepanek