Teaching on the 2017 Costa Rica Tour took many forms — on the bus, in the field, and in several evening lectures, and even within these formats they differed to a degree. To the right, Mary Jo is answering a common evolutionary taunt.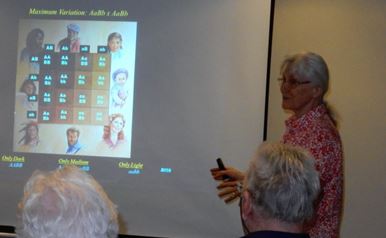 She is explaining how you can get all the various skin colors from blackest black to whitest white in a single family… simply starting with parents of medium skin color. That coupled with the dispersion at the Tower of Babel (recounting the Biblical event) solves the issue. She even showed a slide of twins from medium skinned parents. One had red hair and very light skin while the other had black hair and dark skin, as well as combinations of many other distinct features in contrast.
Roy, our native Costa Rican naturalist is also pictured (below) giving one of his many excellent and detailed explanations of what we were seeing. We were amazed with his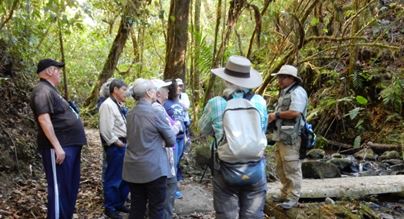 knowledge of so many things we observed all around us! Roy was able to see various animals and birds that we had a hard time seeing even after they were pointed out. That was until we put the scope on them. Everyone on the tour was so thankful he accompanied us for the entire trip! We would have missed much of the educational value, not to mention the aesthetic value, of the locations we visited in Costa Rica without his wealth of knowledge and keen eye!
This tour was a lot more than just head knowledge. YES, it was a time to Discover Creation. However it was a time to be amazed at the ingenuity of our Creator God and to be inspired to respond in worship!
Think about coming with us in 2018.  It is a trip you won't soon forget.
Dave Nutting