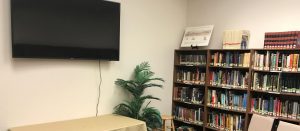 Note the picture of the AOI library. This is one of the largest lending libraries of adult and children's creation books and DVD's in the western United States. In it, patrons can find some of the classic landmark creation books as well as the some of the most recently released resources.
Some individuals come in to spend hours reading through materials, while others come in to check out books and DVD's for their family (and a lot of the time the whole family comes), as well as for homeschool use. Some may want to view the creation DVD's right on the library's large screen TV.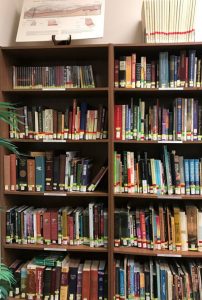 Not only is this library a great resource, but some people have discovered the "library" of information available in the minds of our AOI staff.  We are always eager to share the truth of Creation and help foster a Biblical worldview at any time and to anyone!
If you haven't been to the AOI library and are in the area, please drop in and say hello. Our physical address is: 2140 Broadway, Bldg B. Suite 104. Normal hours are 9-5 Tuesdays – Fridays. Bring your family! Call 970-523-9943 for interest in group creation programs as well.
Dave Nutting