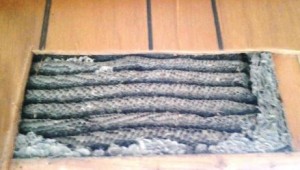 Over the past few months I have been in the process of updating the windows in our older home (built in 1950), adding insulation in the wall cavities, and upgrading the electrical system. Apparently fuel for heating was very cheap back when the house was constructed, because the carpenters did not put any insulation in the walls. As you can imagine, it has been difficult and expensive to keep the house warm during the winter and cool during the summer.
To my surprise, I found in one small section of a wall where I was replacing a very old door, we did have a little insulation of sorts made out of paper – not manmade paper, but paper in the form of a wasp's nest!
We have a lot of exterior wasp nests (not only the paper nests, but also mud nests) around our home, and every year I usually get stung once or twice during the summer season. Fortunately the wasp's nest in the wall had been abandoned for some time, so I was not attacked by a horde of angry wasps.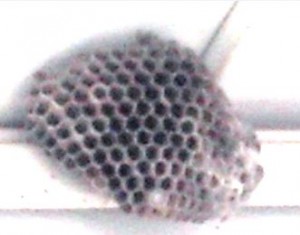 What was very interesting was the unique design of this 'interior' paper wasp nest compared to the ones hanging outside. The outside paper ones are usually in a cone shape. However, the ones in our walls were layered – each layer was constructed of hexagonal cells above and below, attached back to back. Between each layer were very thin and hard 'stilts' spaced at intervals. The purpose of these 'stilts' seem to be to add access space between layers, and possibly for ventilation/cooling of nest.
As I look at each of the nests around my home, I recognize that none of them were constructed in a random, haphazard manner. Each was engineered and constructed with intelligence and great design – and yet the constructed nests are much less complex than the wasps that made them. The wasps and their nests are engineering marvels that should tell us that an intelligent Designer created them and their abilities.
To read more about how wasps build nests go to How Wasps Build Wasp Nests.
To see how the wasps build the cone shaped nest watch: Paper Wasp building nest and feeding Larvae  or Wasps – Building Home  (NOTE! – I do not endorse the music attached to this video. I suggest you mute your sound and just watch the wasps at work).
Lanny Johnson
The intelligence we see at every level of the creation offers strong evidence against the claim that intelligence is a product of evolution. Intelligence is a gift of the Creator to His creatures!
If you would like to see if an AOI seminar is right for you, or you would like to help the work of Alpha Omega Institute, please visit our website events page or our donate page. Keep up to date with what AOI is doing.  Thanks for your partnership.