As more tests were performed to determine the extent of Sue's cancer, there was good news.  The cancer seems to be contained to one area.    It seems we may have detected the cancer before it spread to other organs, and the surgery appears to confirm this.  The surgery was a difficult one, but a success, and we are still in for a long haul.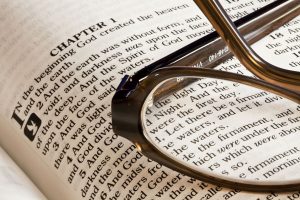 The question is, who is responsible for Sue having cancer?  Is it God's fault?  If God is a God of love, how could He allow Sue to have cancer?  God is not to blame.  As I study Genesis chapters one and two, God made everything perfect (very good).  Cancer is not 'very good.'  It is a corruption of what was originally very good.
So, how did this corruption enter into God's perfect creation?  Again, the answer lies in Genesis.  Adam and Eve were made to live forever in paradise, but something went wrong.  The serpent, which was possessed by Lucifer, deceived Eve, who then enticed Adam to eat of the tree of the knowledge of good and evil.  When Adam ate of the fruit from this tree, death and corruption entered into God's perfect world.
So God is not to blame; man is to blame.  The death and suffering we observe around us is a consequence of sin.  I have also observed that when mankind moves further away from God and His Word, suffering seems to increase.
Does Sue have cancer because God is punishing her for her sins or those of her parents?  The answer to that question again is no.  Jesus revealed this in John chapter nine.
John 9:2, 3: "And his disciples asked him, saying, Master, who did sin, this man, or his parents, that he was born blind? Jesus answered, Neither hath this man sinned, nor his parents: but that the works of God should be made manifest in him."
Is it God's will or desire for her to have cancer?  The answer again is no.  God's desire is for all to repent and have eternal life and have it abundantly.  God came to bring life and not corruption and death.  The evil one comes to bring death and suffering.
John 10:10: "The thief does not come except to steal, and to kill, and to destroy. I have come that they may have life, and that they may have it more abundantly." 
Jesus Christ came to deliver us from this present evil world of death and suffering.
Galatians 1:4:  "Who gave himself for our sins, that he might deliver us from this present evil world, according to the will of God and our Father:"
Revelation 21:4: "And God will wipe away every tear from their eyes; there shall be no more death, nor sorrow, nor crying. There shall be no more pain, for the former things have passed away."
God's will and desire is to take away death, sorrow, crying, pain, etc.  God wants the best for us, and that is why He sent His Son to save us.
Satan is the prince or god of this world.  Through Satan's deception and man's sin, death and suffering abound in this world.
John 14:30: "Hereafter I will not talk much with you: for the prince of this world cometh, and hath nothing in me."
2 Corinthians 4:4: "In whom the god of this world hath blinded the minds of them which believe not, lest the light of the glorious gospel of Christ, who is the image of God, should shine unto them."
Jesus Christ has come, and will come again, to change the corruption which has entered into the world.  Praise the LORD!
God is always very good and everything He does is right, but God has allowed Sue to have cancer.  We do not know why, but there must be a reason.  God has a plan for our lives and that is all we need to know.  So for now our goal is to glorify God in any circumstance and to rejoice in the LORD always!
Philippians 4:4-7: "Rejoice in the Lord alway: and again I say, Rejoice. Let your moderation be known unto all men. The Lord is at hand. Be careful for nothing; but in everything by prayer and supplication with thanksgiving let your requests be made known unto God. And the peace of God, which passeth all understanding, shall keep your hearts and minds through Christ Jesus."
God will be with us through this time of suffering. Thank you for all of your prayers and support.
Hebrews 13:5:  "Let your conversation be without covetousness; and be content with such things as ye have: for he hath said, I will never leave thee, nor forsake thee."
Richard Stepanek
If you would like to see if an AOI seminar is right for you, or you would like to help the work of Alpha Omega Institute, please visit our website events page or our donate page. Keep up to date with what AOI is doing.  Thanks for your partnership.