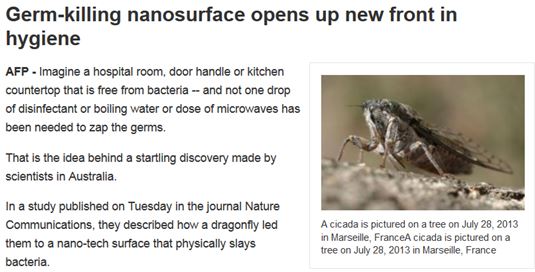 Some interesting research published a few days ago holds a huge promise for reducing incidences of bacterial infection. Wings of dragonflies and the Cicadae are constructed with ultra-microscopic-sized (nano) spires which literally shred bacteria. To read about this go to: Germ-killing nanosurface opens new front in hygiene.
I always like to say that God has given us a vast array of things in nature for us to glean from in order to "invent" amazing technology that will help us mortal humans. That is exactly what is happening with this new discovery. Material emulating these insect's technology is smooth to the touch and, if placed on door handles, will shred bacteria left from people's hands.
Is it really logical to believe that this insect technology, or myriads of other technologies, we glean from in nature could have happened by accidents of evolution? They appear to be the product of our amazing Creator.
Dave Nutting
If you would like to see if an AOI seminar is right for you, or you would like to help the work of Alpha Omega Institute, please visit our website events page or our donate page. Keep up to date with what AOI is doing.  Thanks for your partnership.