The following is an article from Creation Moments ( You Need a Healthy Laugh ):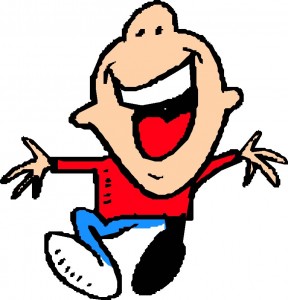 Proverbs 17:22 "A merry heart doeth good like a medicine: but a broken spirit drieth the bones."
Laughing is good for you even if it does begin with the release of adrenaline and other stress hormones.
Whether you are tickled or reacting to a good joke, at least seven different centers in the brain react in various ways. Your response begins with the release of stress hormones. Your normal breathing rhythm gets interrupted, and various neurotransmitters, including dopamine, are released. And, yes, your brain also interprets the tickle so that you cannot tickle yourself since your brain knows when your own fingers are involved. Scientists also believe that as you begin laughing, your saliva glands begin to secrete extra immune compounds. Antibodies and virus-killing T-cells are also released in larger doses. Your heartbeats also increase, and your blood pressure goes up to support the muscle spasms that result from your laugh. Those muscle spasms are actually a good aerobic exercise. In fact, one minute of a good laugh is said to be as good as ten minutes of exercise on a rowing machine!
Besides promoting social bonds, laughing is indeed good for you in many ways. Tickling is a common way that parents bond with their young children. And wholesome humor can cheer the heart and raise the spirits. Moreover, while laughing appears to have no evolutionary advantage, it is easily explained as a gift of God to raise our spirits.
So here are some actual typographical errors and poor word construction found in church bulletins that were announced at church services … hope they make you laugh!
The Fasting & Prayer Conference includes meals.
Scouts are saving aluminium [sp] cans, bottles and other items to be recycled. Proceeds will be used to cripple children.
The sermon this morning: 'Jesus Walks on the Water'. The sermon tonight: 'Searching for Jesus'.
Ladies, don't forget the rummage sale. It's a chance to get rid of those things not worth keeping around the house. Bring your husbands.
Don't let worry kill you off – let the Church help.
Miss Charlene Mason sang 'I will not pass this way again,' giving obvious pleasure to the congregation.
For those of you who have children and don't know it, we have a nursery downstairs.
Next Thursday there will be try-outs for the choir. They need all the help they can get.
At the evening service tonight, the sermon topic will be 'What Is Hell?' Come early and listen to our choir practice.
Eight new choir robes are currently needed due to the addition of several new members and to the deterioration of some older ones.
Please place your donation in the envelope along with the deceased person you want remembered.
The church will host an evening of fine dining, super entertainment and gracious hostility.
Pot-luck supper Sunday at 5:00 PM – prayer and medication to follow.
This evening at 7 PM there will be a hymn singing in the park across from the Church. Bring a blanket and come prepared to sin.
The pastor would appreciate it if the ladies of the Congregation would lend him their electric girdles for the pancake breakfast next Sunday.
Low Self Esteem Support Group will meet Thursday at 7 PM. Please use the back door.
The eighth-graders will be presenting Shakespeare's Hamlet in the Church basement Friday at 7 PM. The congregation is invited to attend this tragedy.
Weight Watchers will meet at 7 PM at the First Presbyterian Church. Please use large double door at the side entrance.
Lanny Johnson
If you would like to see if an AOI seminar is right for you, or you would like to help the work of Alpha Omega Institute, please visit our website events page or our donate page. Keep up to date with what AOI is doing.  Thanks for your partnership.