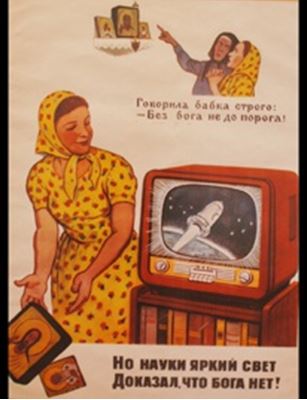 Atheist argument: "How can you believe in a so-called-god when you can't see him/she/it even through the best Hubble telescopes?"  Clear back in 1965, after their space launches, the Russian government posted anti-god posters meant to dissuade people from believing in God. The caption at the bottom of the poster (on the right) basically says, "The bright light of science has proven there is no God."
So, the basic argument is, "If you can't see God, He doesn't exist." Now let's look at "modern science" and see if the same thinking is being applied.
Chet Brokaw's Oct 30, 2013 Associated Press article entitled, Search for dark matter comes up empty so far, describes research taking place a mile underground to find traces of what scientists call "dark matter." It is called that because you can't see it or, even after this latest research, detect it.
So how do we know it is there? Good question! According to modern theories in astronomy, it has to be there. In fact, 25 percent of the entire universe should be made up of this dark matter, but right now it is just plain missing. Scientists themselves say they have "no clue" or are completely "in the dark" about this "ghost-like" dark matter. Others wonder if they should be looking for something entirely different.
The point is this: Even with the bright light of science looking as hard as it can, with its most sophisticated instrumentation, 25% of the universe (This amounts to 5 times the amount of observable matter!) is still missing – it can't be seen. Yet scientists ardently believe it is there. That is a type of faith, isn't it?
Keep in mind that the absence of proof does not mean there is no proof or that none will be found in the future. So scientists will continue to look even more diligently with even more sophisticated (and costly) instrumentation. Some hope they will find it to support the Big Bang Theory. Others think it will "prove God doesn't exist" which is a very faulty logic anyhow. After all, many of the researchers have deep faith in God.
What about the argument that since the best Hubble telescopes haven't revealed God, He can't exist. Perhaps they are looking in the wrong fashion or direction. Keep in mind the Scripture says, "The heavens declare the glory of God!" Perhaps their search should then take them deep inside of the Bible or into their own heart.
The HUGE question is this: What would happen if the same scientists, who claim to be atheists because they can't now see God, would spend their time vigorously searching for Him? The answer according to the Bible in Jeremiah 29:13 is "And you will seek Me and find Me, when you search for Me with all your heart.
Dave Nutting
If you want to read an article about this dark matter, go to Dark Matter Experiment Has Detected Nothing, Researchers Say Proudly.
If you would like to see if an AOI seminar is right for you, or you would like to help the work of Alpha Omega Institute, please visit our website events page or our donate page. Keep up to date with what AOI is doing.  Thanks for your partnership.