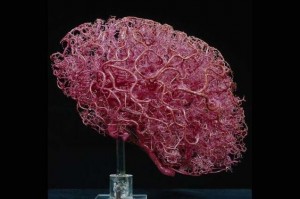 My first recollection of 3-D technology was as a kid going to the 3-D movies, where we were handed a pair of cheap, cardboard colored glasses, with one red lens made of a flimsy plastic material, and the other lens of blue plastic. It wasn't very exciting, but with a little imagination you thought you were seeing in three-dimensions. I understand the 3-D movies today are a vast improvement over the movies of old.
Today we know that brain cells communicate with each other through connections which reach out in three dimensions. The speed at which cells communicate with each other has been shown to be very rapid, even while we sleep.
Until recently, the "thinking" parts of a computer have only been able to communicate using two dimensional flat chips. Scientists felt computers could be greatly enhanced if they could develop a three-dimensional computer chip that mimicked the wiring of the brain.
The first 3-D chip arrangement was in cell phones, however these are just individual flat chips stacked on top of each other. Researchers have recently developed true three-dimensional chips (called TSVs). These TSVs are more efficient than flat chips – they pack more "thinking" power into a smaller space, work faster, and use less power. Chip manufacturers are working on methods to mass produce TSVs.
Scientists understand that mimicking the 3-D wiring of the brain greatly improves computer technology (at least in the area of calculation), but they also understand that they are nowhere close to mimicking the total power of the brain… a brain that points to the creative genius of a Creator!
Lanny Johnson
If you would like to see if an AOI seminar is right for you, or you would like to help the work of Alpha Omega Institute, please visit our website events page or our donate page. Keep up to date with what AOI is doing.  Thanks for your partnership.