The flooding in eastern Colorado these last few days certainly has been a devastating event as you likely saw on the news for days and days.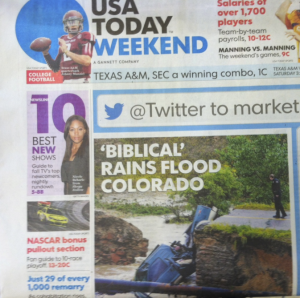 The amount of rain there was close to 18-20 inches. That is a whole lot considering that it was somewhere close to the annual precipitation amount and over twice what our hometown in Grand Junction gets in a year!
A lot of rain, but I was amused by the headline in USA Today: "'Biblical' Rains Flood Colorado."
Well, if you have read Genesis 6-8, you will note that the Biblical rains were a WHOLE lot more! In fact, according to the Bible, the Flood-waters covered the tops of the tallest peaks to a depth of at least 22-30 feet. Just think, if the top of Long's Peak in Colorado was covered with water, along with the rest of the high mountains, there would have been no news stations on earth to report this Flood. All stations would be under huge depths of Flood waters.
Some people have expressed concern about our safety. Thanks for praying for us! Just so you know, AOI is located in Western Colorado. We did get more rain than usual which was a welcome site in this desert area, but not much flooding except for some local creeks.
However, please continue to pray about the Eastern range of Colorado. Also, if you hear about our Grand Junction area of Colorado getting 15-20 inches of rain, or even 5 inches at a time, you can really pray, as most of Grand Junction would likely float down to the ocean.
Dave Nutting
If you would like to see if an AOI seminar is right for you, or you would like to help the work of Alpha Omega Institute, please visit our website events page or our donate page. Keep up to date with what AOI is doing.  Thanks for your partnership.