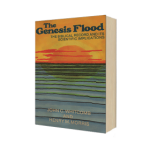 The Genesis Flood was written in 1961 by Dr. Henry M. Morris and Dr. John Whitcomb and is truly a classic book. This book has had a huge impact in drawing Christians back to the Truth of the Bible with evidence derived, not only from the Biblical text itself, but also from the science of geology. However, much work has been done in the field of geology since that book was published. We have always wanted to see an update to that book.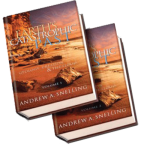 Finally, two different publications have been produced. The first, Earth's Catastrophic Past, is a 1,100 page, semi-technical, 2-volume set written in 2009 by Dr. Andrew Snelling – one of the world's leading geologists in the creation science movement. According to the Institute for Creation Research, "Earth's Catastrophic Past provides up-to-date geological evidence that demonstrates the authority and accuracy of the biblical account of creation and the Flood. . . with in-depth scholarly research and insight. Topics covered in this two-volume set include: The Biblical Record of the Global Genesis Flood; Non-Geological Arguments Used Against a Global Genesis Flood; Noah, the Ark, and the Animals; The Framework for a Scriptural Geology; and A Biblical Geologic Model of Earth History." This is a great book for those willing to devote serious study time. (Hardcover; $60/set)
The second book, however, is the one that I recommend to virtually everyone. Make sure you get this book. It is what I would have tried to write but Dr. John D. Morris saved me a whole lot of time! Anyone who has been to one of my seminars knows I like pictures and lots of them. Well, so does John Morris! His book, The Global Flood, Unlocking Earth's Geological History, is chock-full of wonderful photos and illustrations. It is easy to read, yet concise enough to engage even casual learners.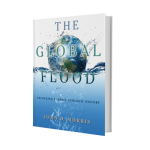 This 176-page book fills a need, not only for geologists, but for the lay person who wants to know about geologic and Biblical evidence for the Flood and its related issues. Dr. John C. Whitcomb, who co-authored the original classic book, writes this in his Forward to The Global Flood:
"For some, the thought of a worldwide flood is ludicrous. But for serious scientists who research the various formations of the earth and the catastrophic processes that shaped the world we see around us today, the evidence of a global flood is indisputable. The Global Flood presents that evidence in a way that clearly demonstrates why the biblical account of the Flood matters to all of us who want to understand and communicate the truth of the Genesis Flood with confidence. The Global Flood helps to meet a great need today. It is comprehensive. It is aimed at those who are not experts in earth sciences. People everywhere need to understand the true significance of the year-long, mountain-covering Deluge that buried and fossilized trillions of marine and land animals and plants only a few thousand years ago."
This book not only gives evidence for the Flood, but also answers many of the objections to the Flood. It is a great resource for pastors and Bible teachers, as well as students and laymen. I believe this 8.5" x 11," hardcover book will have a big impact on a lot of people. I recommend that you invest in the lives of your friends and family by getting a stack of them to give out for Christmas gifts. ($20)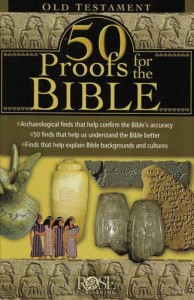 For anyone ordering either of these books or giving a donation to AOI, we will include a high-gloss, full-color booklet showing the authenticity of the Bible from actual archaeological discoveries. Make sure you ask for this free gift,"50 Proofs for the Bible (Old Testament)," when you order or donate.  This offer expires September 30th, 2013.
Dave Nutting
If you would like to see if an AOI seminar is right for you, or you would like to help the work of Alpha Omega Institute, please visit our website events page or our donate page. Keep up to date with what AOI is doing.  Thanks for your partnership.