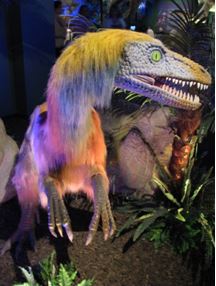 I received an Email from Terry Beh, who is the author of a new kid's book on Dinosaurs which we sell at seminars. It is called T is for T.Rex – Some of Gods Most Amazing Creatures from A-Z. (Available from AOI for $20 includes shipping, just mention in the comments that you saw it here).
Terry Beh mentioned, in his email, that he has just recently visited the Witte Museum in San Antonio. Currently the museum is featuring a traveling exhibit on dinosaurs. Terry was certainly "impressed" with the amount of artwork, but also noted a definite lack of actual evidence for that artwork in the exhibits. It is evident that the main thrust of the exhibit is to convince all the kids who come to the displays that dinosaurs evolved into birds – despite the lack of solid evidence. Why the big push?  I think it is to help children connect with evolution at the youngest possible age. Since dinosaurs are always a huge attraction to kids, start them off with a bang by introducing them to the idea of evolution through dino's evolving into birds.  Here is what Terry wrote:
Would you believe feathers on a T.rex? How about Velociraptor? I'm talking long, stringy, hair-like stuff that evolutionists are calling "protofeathers"–and that make some of these dinosaurs look like refugees from a nightmarish hippie convention. This is exactly what I found recently at a new dinosaur exhibit at the Witte ("witty") Museum in San Antonio, where the latest in secular scientific propag…er, that is, education, is on display at an exhibit called, "Dinosaurs: Bigger, Better, Feathered…". To read the whole story, read my article, "Museum's Dinosaur Exhibit Not Too Witte," at http://tisfortrex.com/?p=383.
Parents, make sure you understand the hype, and the rationale for that hype, so that you can guide your children correctly in truth!
Dave Nutting
If you would like to see if an AOI seminar is right for you, or you would like to help the work of Alpha Omega Institute, please visit our website events page or our donate page. Keep up to date with what AOI is doing.  Thanks for your partnership.