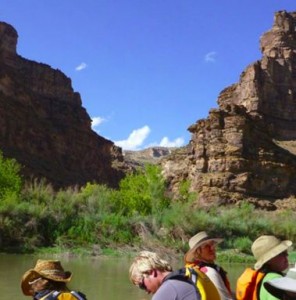 On the exploratory raft trip down the Green River, we saw a lot of geology and wildlife and all of us likely got a bigger feel for the effects of the Genesis Flood. Another very interesting dimension of the raft trip was the historical aspect.
The canyons we went through are named Desolation and Gray Canyons. Desolation Canyon is true wilderness. There are no modern roads that meander through the canyon and no train tracks for most of it. Even though it is remote, there is still a lot of human history there.  First of all, the American Indian people groups frequented this area as evidenced by ancient drawings on the rocks. More recently in 1776, the Spanish exploration teams
led by Dominguez and Escalante came through. Some of their expedition is actually recorded in some of the native petroglyphs. Fur trappers and explorers like Kit Carson, who was also a guide and Indian agent, wintered in the area in 1833-1834. Captain John Gunnison scouted the area for a railroad crossing of the Green River in 1853. (He was supposedly killed by the Indians just a short time afterwards, but many historians along with Gunnison's wife claim that the killing was ordered by Brigham Young.) Cattle ranchers also saw the low lands as an ideal place to winter their livestock and established a few ranch sites where stone buildings still stand.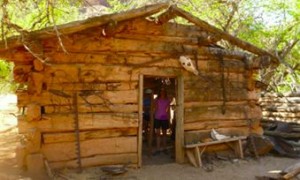 Notorious outlaws saw the canyons as a good place to hide from the law. Butch Cassidy and the Wild Bunch, infamous from the Midwest to the deep west with their train and bank robberies, holed up in the late 1890's and 1900 in the remote sections. Part of the group was even overtaken and shot by lawmen along the River (George Flat-nose Curry, and Joe Walker).
For the history buffs, the trip was like stepping into the past and experiencing the life of these early inhabitants. We likely pitched our tents on the very same campsites where some of these people out of the past spread their bedrolls.
Desolation and Gray's Canyons—remote, but full of history!
Dave Nutting
If you would like to see if an AOI seminar is right for you, or you would like to help the work of Alpha Omega Institute, please visit our website events page or our donate page. Keep up to date with what AOI is doing.  Thanks for your partnership.