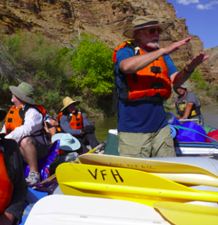 Last week, Mary Jo & I led a Discover Creation Green River Raft Trip.  AOI co-sponsored the trip along with Journey Quest, a new Christian wilderness ministry and rafting company our son is helping develop. Everything went very well. We were blessed with safety, health, energy, good weather, good attitudes, great fellowship, and good learning for both the participants and the instructors! This was meant to be an exploratory trip as we had never physically explored the geology of that section of the river. We enjoyed camping in the wilderness while exploring the geology and seeing evidence of the Flood and God's restorative power after the destruction. We also enjoyed teaching/learning more about God's creation, and digging into His Word with fellow travelers.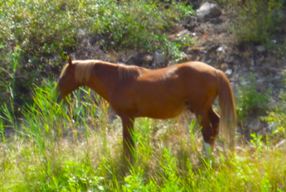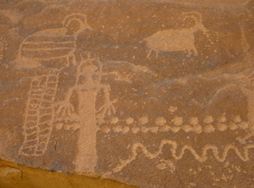 Besides the landforms and geology, we saw several groups of wild horses, groups of desert big horn sheep, deer, coyotes, lots of lizards, snakes (but no rattlesnakes),  a few very old homesteads, a fossil imprint of a turtle, and drawings made by American Indians on the sandstone walls.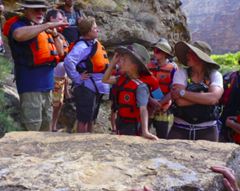 Mary Jo and I camped out in a tent as we are not too fond of the idea of sharing our sleeping bags with an unwelcome critter. Some of the brave ones in our group went without tents, so they could enjoy the stars since the weather was so cooperative. The days were spent floating down the river, shooting rapids, and enjoying the "mini"-lectures (we hope) and the beauty of the area.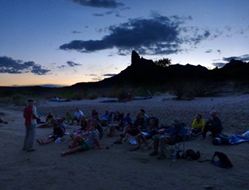 So why do we do field trips and, in this case, the raft trip? Over the last few years, we have had many students tell us that seeing and experiencing the places we talk about not only cemented the truth of Creation for them, but also the truth of the Bible. I think all 30 of the raft trip participants, including staff, got a much bigger, hands-on feel for the scope of the Flood and how it and the aftermath of it shaped our present world.
If you want to be notified of the next field or raft trip, send an email to [email protected].
Dave Nutting
If you would like to see if an AOI seminar is right for you, or you would like to help the work of Alpha Omega Institute, please visit our website events page or our donate page. Keep up to date with what AOI is doing.  Thanks for your partnership.