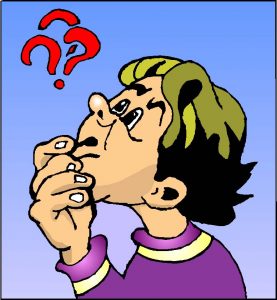 People in the world today have many questions; for example:
How did everything get here?
Why are we here?
Who am I?
What is the purpose of life?
Why is there so much suffering and death in the world?
What does the future hold for me?
Where will I spend eternity?
We as Christians need to know the answers to these questions, as well as many others.
I Peter 3:15 –  "But sanctify the Lord God in your hearts: and be ready always to give an answer to every man that asketh you a reason of the hope that is in you with meekness and fear:"
Why do we need to have answers to their questions?  If we do not give them the answers, they may search elsewhere for answers and they will probably be told a lie.  Many people reject Jesus and His Word because the church doesn't have the answers.
To answer these questions and many others; we will turn to Genesis, which is the book of beginnings, and science.  People may ask, 'what does Genesis have to do with science?'  We will discover that Genesis and science fit perfectly together. I will explain by defining science.
The definition of science in the Webster's New Universal Unabridged Dictionary, copyright 1983 states:  "Science: Systematized knowledge from observation, study, and experimentation carried on in order to determine the nature of principles of what is being studied."
Empirical science is the observation, study, experimentation, etc. of nature or creation to gain knowledge.  I was taught this type of research was a modern day concept starting in the 1600's, but it is not.  A man living about two thousand years ago wrote the definition of science for our learning.  His name was Paul.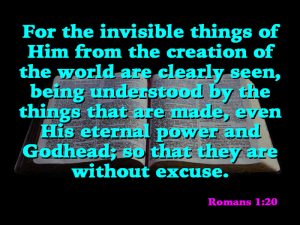 Romans 1:20 –  "For the invisible things of him from the creation of the world are clearly seen, being understood by the things that are made, even his eternal power and Godhead; so that they are without excuse:"  (emphasis added) 
The words 'clearly seen' mean: to see thoroughly, perceive clearly.  Further studies of 'clearly seen' we read; to see with the mind, to perceive, know, become acquainted with by experience, to experience, to scrutinize, observe, etc.  In other words, 'clearly seen' means; observation, study, experimentation, etc., and what we are studying is creation or nature (things that are made).  From this study of creation, we obtain knowledge (understand or understood). Romans 1:20 is the definition of the scientific method!  But Paul goes a step further.  Through this study and knowledge of creation-nature, we know that God exists.  Actually, there is so much evidence there is no excuse for anyone being an atheist!
Please check back for the next blog, where I will continue discussing answers to these questions, as we go verse by verse through the first chapters of Genesis.
Richard Stepanek
If you would like to see if an AOI seminar is right for you, or you would like to help the work of Alpha Omega Institute, please visit our website events page or our donate page. Keep up to date with what AOI is doing. Thanks for your partnership.