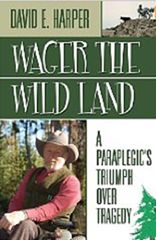 Years ago, I met Dave Harper, who would eventually become an AOI Board member. A few hours after meeting, we joined Dave and his wife Barb in a restaurant. After I offered a prayer for our lunch (which I didn't realize until later had shaken him to the core), he riveted his attention on me and asked how I, as a geologist and a Christian, reconciled the teachings of Genesis with evolution. Dave had become a Christian a short while before, but was almost afraid to open Genesis, thinking it ran cross-ways with everything he was taught about "science."
That one question was all the invitation I needed to give a month of teaching in the next 15 minutes. Being quite a reader and deep thinker, he later devoured the material I had recommended. We later became good friends and exchanged many such conversations. Mary Jo and I also gained a deep appreciation for his down to earth approach to life and deep insights into the core point of an issue, an asset that we welcomed when he became a Board member of AOI.
I also appreciated that even though an accident at age 16 left him in a wheel chair, he never let that stop him from doing things that other men only dream about. Just this month, he published his first book which had my endorsement on the back cover. Here is what I wrote:
"After getting to know the man behind this book, I anxiously awaited opportunity to read this potential best seller. If it reflected just part of Dave Harper's core being, I knew I wanted to learn from it. Before reading the book, I thought it would be an encouragement to any person with a physical limitation. I was wrong! It is a huge horizon-builder for anyone who is limiting their potential by psychological barriers. After reading this book, you may never again say, "I can't do that."
If you allow it, this book will split your gut laughing, it will make you cry, and it will lift you to new levels of achievement. This iron-horse cowboy's life story reflects what I have often heard him say: "I might be crippled, but I am not handicapped!"
If you want to appreciate this man like we have and get to know one of our Board members, call the office at 970-523-9943 or toll free at 1-800-377-1923 to order Wager the Wild Land, A Paraplegic's Triumph Over Tragedy. We are offering it at 14$. If you are a Kindle or Nook user, you can also pick it up from those respective stores for your device. We will also offer it on our online store in the near future.
Dave Nutting
If you would like to see if an AOI seminar is right for you, or you would like to help the work of Alpha Omega Institute, please visit our website events page or our donate page. Keep up to date with what AOI is doing. Thanks for your partnership.