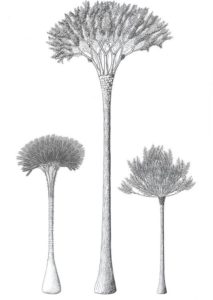 That is what the secular researcher asked having studied the now extinct Claadoxylopsid trees (supposedly dating to 393-372 million years ago). Its extinction, in fact, is also a big question mark for secular scientists because their fossils are found already complex and fully formed with no more primitive ancestors and their fossils have been found in sand and some buried in volcanic ash. In fact, the ash preserved them so well that scientists could make out every cell within the tree.
Scientists were shocked when they discovered that instead of finding the typical tree ring growth pattern to these trees, the trees actually had a totally different system – multiple, separate vertical tubes that were interconnected and bound together stretching the height of the tree and that each of these tubes would have its own growth around it – thus widening the tree as it stretched upwards. No other known trees are like this and it is much more complicated than typical trees.
Think about it too – for these trees to have been buried in ash as they were – that must have been a tremendous volcanic eruption! All of these evidences seem to fit better that God created these trees complex and that they were buried in a massive earth-changing volcanic and flood event!
Read more here: https://answersingenesis.org/fossils/fossil-record/study-ancient-tree-most-complicated-growth-mechanism-ever/
Photo Credit: https://commons.wikimedia.org/wiki/File:Pseudosporochnales_reconstruccion.jpg