Yes, I wondered about Dave's sanity when he scheduled a seminar in north central Wyoming in the middle of January. After all, it's COLD up there! But, we felt God was in it, so we headed north. And yes, it was cold (down to -20 and below)! However, after speaking at universities where we often find so many cold hearts, it was refreshing to receive a warm welcome and meet people who were willing to come out at sub-zero temperatures to hear the truth about Creation and God's Word. Now that's heart-warming!
Over the years, we have encountered all kinds of weather – heat, cold, rain, snow, wind and dust storms. We've dodged tornados and soft-ball sized hail, and thanked the Lord for keeping us out of the path of destruction. Through it all, God has been faithful, and I can't remember ever having to cancel a seminar because of weather yet. Of course, some times the turn-out has been less than expected due to inclement conditions, but God has enabled us (and the rest of our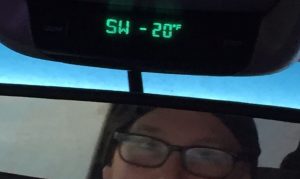 speakers) to continue sharing the truth of His Word regarding Creation and the Gospel. For this we are very grateful!
Things may not always be as comfortable as we'd like, and travel conditions may be downright treacherous, but God has protected and provided for us all along the way. On this past trip, with sub-zero temperatures most of the time, we were grateful for warm places to teach and stay. The truck started (thanks to a local rancher who loaned our driver a lamp and an extension cord to keep the engine a bit warm overnight), and we had safety on slippery, snow-packed roads. We never take any of this for granted, but thank the Lord for the blessings of safety each time we are on the road –or in the air, on a boat, or hiking the mountain trails.
Nevertheless, we are glad to be back in "balmy" Grand Junction – where the thermometer read 40 degrees (above zero) on our way home from the airport. That's 60 degrees warmer than the reading that cold day on the way to the seminar. Maybe we should schedule next January in Hawaii!
Mary Jo Nutting