"For the sake of discussion, let's say that mice evolved into bats. If this occurred, you would expect to find fossil mice and fossil bats, along with all the transitional forms (or intermediate animals) between the two, in the fossil record. A hypothetical example follows: Animal A (below) is the first step of a mouse changing into a bat. The animal looks like a mouse, but its arms are now longer than its legs. It will need these long arms to form the wings.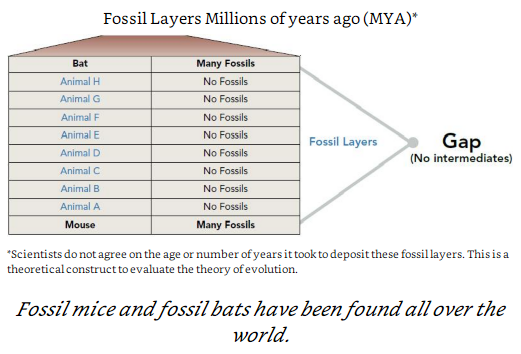 Animal B is very unusual looking. It looks something like a mouse, but its fingers are longer than its elongated arms. These fingers will act as struts for the eventual wings of the bat.
Animal C is developing enlarged muscles in new locations on its arms. A flying animal needs its strongest muscles for the movement of the wings.
Animal D is developing a membrane on each arm. The membrane is not developed enough to allow the animal to fly because it is not yet attached to the body and back legs. Rather, the membrane is more like a loose cape. (See the picture of a bat's wing membrane below.)
Animal E is halfway to becoming a bat. It has wings, which are attached to the body, but the animal still cannot fly because the muscles for flying have not yet completely developed.
Animal F's knees are starting to turn outward, like a modern bat's knees. Walking is getting more difficult than before because of this awkward change in the legs and the extremely long fingers and arms.
Animal G's knees are facing backward like a bat's knees.
Animal H is nearly all bat, but not quite. Its bones are still solid, rendering the animal too heavy to fly. Flying animals have hollow bones to make them lighter. This process has yet to take place before the final step of evolution into a bat."
Werner, Dr. Carl (2014-04-01). Evolution: The Grand Experiment (3rd Edition) (Kindle Locations 1093-1108). New Leaf Press. Kindle Edition.