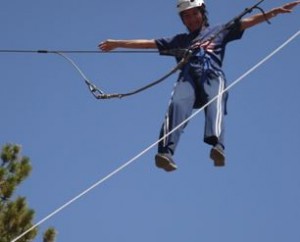 Mary Jo & I recently enjoyed conducting a family camp at Horn Creek Camp near Westcliffe, Colorado. It was our first year doing a Creation Adventure at this camp and everything went great. Families enjoyed the facilities including their lodge rooms, excellent meals, and the meeting room for our presentations. The activities were as intense or as laid back as each family desired.
From the comments we received, everyone benefitted from, and enjoyed, the Creation sessions. We had adult teaching sessions and a special kid's programs as well.  Teens, as well as the younger ages, enjoyed hanging out with each other and playing some popular games during the evenings and after the sessions.  I would like to think they were discussing creation as they were hanging out, but I'm not betting on it.
For the action minded, there was a giant swing that got the adrenaline flowing for anyone. Also, white water rafting was enjoyed by all who participated. The river we
rafted is one of the most popular, as there is one rapid after another. Others went horseback riding or climbed a fabulous climbing wall. Families also enjoyed the group dynamic activities that made everyone work together.
The long water slide into the pool was a real attraction for younger children, teens, and even the adults.  Some also tried their hand at bowling, basketball, or carpet pool, but most ran out of time to do all the activities that were available during that week.
It was a great success and we look forward to doing it again at Horn Creek next year. Our tentative dates for you to put on the calendar are June 28 – July 3, 2015. Hope to see you there.
Dave Nutting
If you would like to see if an AOI seminar is right for you, or you would like to help the work of Alpha Omega Institute, please visit our website events page or our donate page. Keep up to date with what AOI is doing.  Thanks for your partnership.