Creation Answer:
God was very intentional about every detail of His creation, including feathers on birds! "Birds are 'custom designed for flight!'" Without the complex make-up of feathers, birds would never have flown. In fact, their entire bodies are designed specifically for flying with their light, hollow bones, their open respiratory system, their efficient digestive and circulatory systems, as well as their streamlined shape accompanied by powerful specialized muscles and tendons. "All of these factors work together to produce a system that is highly efficient and intricately coordinated."[i] These characteristics would not be just simple little changes, but rather, unbelievably extensive changes from the structures of reptilian dinosaurs that birds supposedly had evolved from.[ii]  For example, "A transitional series from the reptile to the bird lung design would need to start from a poor creature with a diaphragmatic hernia (hole in the diaphragm), and natural selection would work against this."[iii]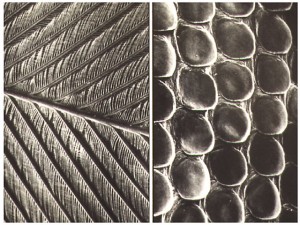 The Theory of Evolution has claimed that birds have evolved from dinosaurs and thus feathers from scales.[iv] This hypothesis has been disproven as Dr. David Menton explains in saying "the only similarity is that they are both made of the protein keratin—like hair, nails and our skin."[v] He also goes on to say that feathers are closer to hair than to scales and he lists 18 similarities between feathers and hair.[vi] "An evolutionary feather expert, Alan Brush, concludes 'At the morphological level feathers are traditionally considered homologous with reptilian scales. However, in development, morphogenesis, gene structure, protein shape and sequence, and filament formation and structure, feathers are different.'"[vii] So reptiles must have evolved hair filaments growing through their scales first, before feathers. Interestingly, a reptile's skin is one large sheet that is folded to create the scale shape and that's why reptiles can shed their skin all at once.[viii]
"Feathers may look simple, but they're really very complicated. Each one can have more than a million tiny parts."[ix] "The precise position of each feather is monitored by sensory receptors and controlled individually by tiny muscles to change shape and position in response to varying air pressure.  Feathers are stronger by weight than any man-made substitute."[x] They are so strong because each feather is made up of a shaft with two vanes. Each vane has, on average, 400 barbs extending out from the shaft of the feather. Each barb has an average of 800 barbules that have many hooklets that interconnect each barb. This interconnecting structure acts like Velcro and is therefore extremely strong, flexible and very light-weight.[xi]
The Theory of Evolution makes a lot of assumptions about the process of going from running or tree climbing reptiles into bouncing/gliding and eventually flying birds.[xii] Think about all the steps that evolution has to assume from the following quotes and commentary. "The chief difficulty in thinking about the evolution of the first feathers is the difficulty in accounting for the genesis of the structure through a continuous sequence of selective forces and with a continuous series of hypothetical morphological steps that are functionally plausible."[xiii]
The above explanation of a feather is simply about the flight or contour feather whereas there are other types of feathers as well. "The belief in feather evolution requires evidence for the evolution of each kind of feather (or evidence for the evolution of each feather from the first feather), which requires speculation about 'feasible selective demands acting on evolution of feathers,' a task no-one has yet achieved.18 The evolution of feathers is considered so improbable—even by evolutionists—that Darwinists generally conclude that 'feathers evolved only once in the history of the vertebrata'.20 Much speculation also exists about this first feather—was it a simple contour feather, a downy feather or a flight feather?"[xiv]
Ultimately, there is no evidence of intermediates between a scale and a feather. The fossil record shows accessories that are either 100% scale or 100% feather.[xv] In the fossil record, "the oldest known feathers … are already modern in form and microscopic detail."[xvi] A Columbia University biologist stated, "we lack completely fossils of all intermediate stages between reptilian scales and the most primitive feather."[xvii] The same can be said for transitions between hair and feathers.
Birds "are actually ideal animals to use to study evolution because their fossils preserve very well. The fact that 9,000 living species are now known, all of which have a very unique skeletal morphology yet only 45 extinct bird taxa have ever been identified, providing strong evidence that relatively few types of non-modern birds have existed throughout history. This conclusion is supported by the fact that of 329 living families of terrestrial vertebrates, fully 79% have been found as fossils, as have 97.7% of the 43 living terrestrial vertebrate orders."[xviii]
Evolution's best and most prestigious evidence for reptile – bird evolution has been Archaeopteryx, but at a "major meeting of scientists who specialize in bird evolution…there was very broad agreement on the belief that Archaeopteryx was a true bird."[xix] Regarding proposed feathered dinosaur Sinosauropteryx, "Ruben and ancient bird expert Larry Martin believe that the so-called 'feather' traces are actually frayed collagen fibres beneath the skin. Feather expert Alan Brush, University of Connecticut, Storrs, points out that they 'lack the organization found in modern feathers.'7"[xx] Proposed feathered dinosaur Psittacosaurus was found to have very thick skin, but "no presented evidence of feathers on this dinosaur"[xxi] Some claim that Velociraptor had feathers. The evidence is one ulna bone that they assume is from a Velociraptor based on where they found it and the potential "quill knobs" that are not very well defined on the fossil. Also, the Velociraptor is supposedly about 70 million years older than the earliest supposed bird, so it doesn't help much (if at all) with the necessary missing steps for bird evolution.[xxii] Anatomist Dr. David Menton says, "The obvious bird fossil Confuciusornis sanctus, for example, has long slender tail feathers resembling those of a modern scissor-tail flycatcher."[xxiii] Regarding Confuciusornis sanctus, "even this beaked bird, with even more direct evidence of feathers, is 'dated' to 135 million years, so older than its 'feathered dinosaur' ancestor."[xxiv]
In fact, "Dr Carl Werner's book and DVD, Living Fossils, reveals that fossil researchers have found many modern bird remains with dinosaurs." These modern bird discoveries throw a wrench into the idea that dinosaurs came first and became birds.[xxv] These examples are only part of the growing controversy regarding the evolution of birds.[xxvi]
The "evolution of feathers (or any of the many other structures required to fly [bone structure, respiratory system, circulatory system, musculatory system, nervous system, shape of the wing, etc]) as separate structures is unlikely and clearly counterproductive because, as separate structures, they would impede survival."[xxvii] (examples added) Also to counter the insulation theory, hair would have been a lot easier to develop as an insulator for the evolving reptiles.[xxviii] There are many theories regarding bird and feather evolution, but all of them are so far "insufficient."[xxix] "These feather-evolution schemes, although they may appear plausible, all tend to obscure crucial difficulties, and are too vague to be able to criticize their specific claims."[xxx]
If all that is not enough, the supposed evolutionary order is inconsistent with the Biblical order. The first mention of birds is found in Genesis 1:20, "And God said, Let the waters bring forth abundantly the moving creature that has life, and fowl that may fly above the Earth in the open firmament of heaven." This passage explains that God created birds on day 5 and then land animals on day 6. One of the most comforting things for believers is that God "will cover you with his feathers, and under his wings you will find refuge." (Psalm 91:4, NIV)
What the Bible Says: Ps 68:13, Ps 91:4,
by Brian Mariani and others
Before commenting, please read the following disclosures.
Any offensive language will automatically disqualify your comment for publication, even if the arguments contained are good. Please comment on the ideas that are presented and not the presenter.  If your comment becomes an ad hominem argument and does not substantially address the issue, your comment will be disqualified as well.  We are looking for real arguments, not fallacious ones, so that we can present and challenge opposing ideas and arguments as they are truly believed by evolutionists.  We do not want to tear down straw men as well as you do not want to be misrepresented. Also, please keep your comments as brief as possible, and if the majority of the comment does not address the current issue, but becomes a red-herring, it will not be posted as well. If your comment does not fall into one of the above restrictions, then your comment will be posted unedited (you may want to check your spelling, grammar, etc.) We thank you for your time and comments.
One thing to keep in mind, each blog is one piece of evidence. Evidence has to then be interpreted, which is not a fact…but evidence strengthening or weakening a specific hypothesis or theory. So there can be multiple ways of interpreting the same evidence. I am not being unscientific, but asking more questions and being skeptical is being more scientific. I am still working on these, so please help with your comments.
If you would like to see if an AOI seminar is right for you, or you would like to help the work of Alpha Omega Institute, please visit our website events page or our donate page. Keep up to date with what AOI is doing.  Thanks for your partnership.
---