Introduction:
The two most distinctive things about birds are that they can fly and have feathers. But have you ever wondered how feathers evolved? How complex are feathers? Could they have evolved from reptile scales? How long did it take to evolve feathers? What was their use before they enabled the bird to fly? If those are not enough questions, how did the whole bird itself evolve? 
Naturalistic/Evolutionary Answer: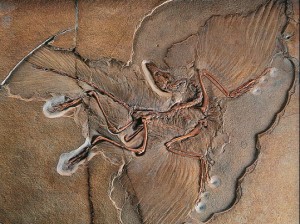 One of the prevailing theories is that some dinosaurs evolved into birds, so feathers evolved on reptilian dinosaurs. The fossil record gives only small glimpses of that transition. "By analyzing specimens from China, paleontologists have filled in gaps in the fossil record and traced the evolutionary relationships among various dinosaurs. The fossils finally have confirmed, to all but a few skeptics, that birds descended from dinosaurs and are the living representatives of a dinosaur lineage called the Maniraptorans." Possible transitions from feathered dinosaurs to birds or examples of feathered dinosaurs include: Anchiornis huxleyi, Archaeopteryx, Confuciusornis, Sinosauropteryx, Psittacosaurus, Microraptor, Velociraptor, and more.[i]
"Feathers originate in a skin layer deep under the outer layer that forms scales. It is very unlikely that feathers evolved from reptilian scales, even though that thought is deeply embedded in the minds of too many paleontologists. Feathers probably arose as new structures under and between reptile scales, not as modified scales. Many birds have scales on their lower legs and feet where feathers are not developed, and penguins have such short feathers on parts of their wings that the skin there is scaly for all practical purposes."[ii]
"Feathers in their most primitive form were single filaments, resembling quills, that jutted from reptilian skin" and started evolving nearly 240 million years ago. "After the emergence of single filaments came multiple filaments joined at the base. Next to appear in the fossil record were paired barbs shooting off a central shaft. Eventually, dense rows of interlocking barbs formed a flat surface: the basic blueprint of the so-called pennaceous feathers of modern birds. All these feather types have been found in fossil impressions of theropods, the dinosaur suborder that includes Tyrannosaurus rex as well as birds and other Maniraptorans."[iii] One paleontologist says, "it seems that, genetically, it's not a great trick to make a scale into a filament."
Though many dinosaurs evolved feathers, the proto-feathers did not evolve for flight as they were not sufficient enough to fly with, but instead may have been useful for insulation, for mating practices, or for camouflage.[iv]
"The thermoregulatory (insulation) theory for the origin of feathers is probably the most widely accepted one today, but it does have problems. Why feathers? Feathers are more complex to grow, more difficult to maintain in good condition, more liable to damage, and more difficult to replace than fur. Every other creature that has evolved a thermoregulatory coat, from bats to bees and from caterpillars to pterosaurs, has some kind of furry cover. There is no apparent reason for evolving feathers rather than fur even for heat shielding."[v]
It is possible that a fuzzy type of feather coat initially evolved for insulation purposes and very quickly these reptiles used their proto-feathers for dominance in mating situations, in competition for food, and in defense from predators (the display and fighting hypothesis). For these reasons, the more elaborate and longer feathers made these reptiles more impressive, or intimidating, and thus were more fit to survive based on natural selection tendencies. This display of feathers "would have been most effective on movable appendages, such as forearms and tail."[vi]
As birds evolved from reptilian dinosaurs, the cursorial hypothesis states that the origination of feathers would have helped running dinosaurs gain extra lift for bouncing away from predators or closer to prey. The arboreal hypothesis states that those proto-feathers would have allowed tree climbing and dwelling dinosaurs to glide through the air better. Either way, these proto-feathers allowed dinosaurs to become more efficient at running, jumping, and moving on the ground or through the trees. "The Running Raptor" version of the cursorial hypothesis suggests that this reptile ran through the brush scaring out flying insects to which it would leap after by waving or flapping it's hands to stay up long enough to catch its prey. From the display hypothesis, the flapping motion would have been impressive and intimidating and these circumstances would naturally lead to the selection of reptiles with stronger pectoral muscles, longer arms, and longer feathers. These features would also be advantageous for fighting as well.[vii]
"Since the last of the non-avian dinosaurs died out 65 million years ago during the mass extinction that closed the curtain on the Cretaceous period, birds have evolved other characteristics that set them apart from dinosaurs. Modern birds have higher metabolisms than even the most agile Velociraptor ever had. Teeth disappeared at some point in birds' evolutionary history. Birds' tails got shorter, their flying skills got better and their brains got bigger than those of dinosaurs. And modern birds, unlike their Maniraptoran ancestors, have a big toe that juts away from the other toes, which allows birds to perch. 'You gradually go from the long arms and huge hands of non-avian Maniraptorans to something that looks like the chicken wing you get at KFC,' says Sues."[viii]
As more rocks are turned up, there will be more discoveries clarifying the transitions between reptiles and birds. There is difficulty, though, "partly because birds, then as now, were far less common than fish and invertebrates, and partly because birds more readily evaded mudslides, tar pits, volcanic eruptions and other geological phenomena that captured animals and preserved traces of them for the ages."[ix] New discoveries are continuing to show links between dinosaurs and birds including the fact that traits specific to birds like "fused clavicles were common in dinosaurs after all. Deinonychus and Velociraptor bones had air pockets and flexible wrist joints. Dinosaur traits were looking more birdlike all the time."[x]
by Brian Mariani and others
Is the above correct? Do you evolutionists agree with this position? I have tried to write it as you believe it. Do you have any disagreements or concerns or additions?
Before commenting, please read the following disclosures.
Any offensive language will automatically disqualify your comment for publication, even if the arguments contained are good. Please comment on the ideas that are presented and not the presenter.  If your comment becomes an ad hominem argument and does not substantially address the issue, your comment will be disqualified as well.  We are looking for real arguments, not fallacious ones, so that we can present and challenge opposing ideas and arguments as they are truly believed by evolutionists.  We do not want to tear down straw men as well as you do not want to be misrepresented. Also, please keep your comments as brief as possible, and if the majority of the comment does not address the current issue, but becomes a red-herring, it will not be posted as well. If your comment does not fall into one of the above restrictions, then your comment will be posted unedited (you may want to check your spelling, grammar, etc.) We thank you for your time and comments.
One thing to keep in mind, each blog is one piece of evidence. Evidence has to then be interpreted, which is not a fact…but evidence strengthening or weakening a specific hypothesis or theory. So there can be multiple ways of interpreting the same evidence. I am not being unscientific, but asking more questions and being skeptical is being more scientific. I am still working on these, so please help with your comments.
---