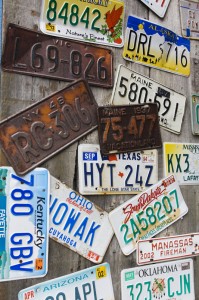 Just recently, we were blessed by a wonderful gift of money from a family member. We were excited as it added a buffer, some breathing room, as we look towards added expenses with our baby on the way.
The next day, we had to go to the DMV to register our cars in Colorado for the first time since moving here. The DMV, for many, is known for long wait times and over-complicated "simple" transactions. We got there, took our number and waited. We only had to wait for a little bit, and eventually our number was called.
We had both of our cars to register at the same time. The young lady was very helpful and walked us through signing the paperwork. Now, I knew car registration was not cheap, but I figured it wouldn't be too terrible and that is when the young lady told us about the late fees! Ouch! What a bummer – we thought we were being wise by re-registering last year in our previous states, due to the fact that we were moving half-way across the country and had not settled or established ourselves in Colorado yet.
The late fees really added to the total, but thank God one of our cars wasn't as late because we didn't retrieve it until later in the year. As we were waiting at the desk, I realized that I didn't have any checks with me – I usually have one or two in my wallet.  I also noticed that there was an extra charge for using a credit card. Then I remembered, that envelope of cash from my family member! It covered the entire cost for that day, plus a little more as well. This may just seem like a coincidence to some, or not sound like that big of an issue, but to my wife and I, it was the powerful hand of God providing for us.
We had a professor at Bible College who taught about God's character and power. I don't feel like I learned, or remembered, much academically from him during that class, but I do remember him telling story after story of God's provision for him and his family. That impacted me. I thought, what a better way to live life than to have these challenging experiences and to see God provide and to glorify Him by sharing that with others!
It stills surprises and scares my wife and I that we are missionaries, but let me ask this question: would you rather trust a man, an organization, the government or God for a paycheck?
We thought we were being wise and were trusting God by not registering our cars earlier, and it didn't seem to work the way we wanted. We worried about it. Why do we worry? Who is in control??? God is in control! God has a better purpose and a better plan than we do, and I think that through His provision for us, God is greater glorified… and that is the goal. We often worry because we don't want our life to be hard. Who are we living for?
Consider the Words of God:
25 "For this reason I say to you, do not be worried about your life, as to what you will eat or what you will drink; nor for your body, as to what you will put on. Is not life more than food, and the body more than clothing? 26 Look at the birds of the air, that they do not sow, nor reap nor gather into barns, and yet your heavenly Father feeds them. Are you not worth much more than they? 27 And who of you by being worried can add a single hour to his life? 28 And why are you worried about clothing? Observe how the lilies of the field grow; they do not toil nor do they spin, 29 yet I say to you that not even Solomon in all his glory clothed himself like one of these. 30 But if God so clothes the grass of the field, which is alive today and tomorrow is thrown into the furnace, will He not much more clothe you? You of little faith! 31 Do not worry then, saying, 'What will we eat?' or 'What will we drink?' or 'What will we wear for clothing?' 32 For the Gentiles eagerly seek all these things; for your heavenly Father knows that you need all these things. 33 But seek first His kingdom and His righteousness, and all these things will be added to you. 34 "So do not worry about tomorrow; for tomorrow will care for itself. Each day has enough trouble of its own…
7 "…Ask, and it will be given to you; seek, and you will find; knock, and it will be opened to you. 8 For everyone who asks receives, and he who seeks finds, and to him who knocks it will be opened. 9 Or what man is there among you who, when his son asks for a loaf, will give him a stone? 10 Or if he asks for a fish, he will not give him a snake, will he? 11 If you then, being evil, know how to give good gifts to your children, how much more will your Father who is in heaven give what is good to those who ask Him! (Matt 6: 25-34, 7:7-11)
28 And we know that God causes all things to work together for good to those who love God, to those who are called according to His purpose…If God is for us, who is against us? (Rom 8:28, 31b)
Brian Mariani
If you would like to see if an AOI seminar is right for you, or you would like to help the work of Alpha Omega Institute, please visit our website events page or our donate page. Keep up to date with what AOI is doing.  Thanks for your partnership.