Currently, my wife and I are preparing for the birth of our first child. In fact, I feel like this whole year has been one of preparation with researching for books, blogs, and PowerPoint presentations, as well as planning and preparing for the inaugural class of the Discover Creation Training Institute, Lord willing, in August 2015.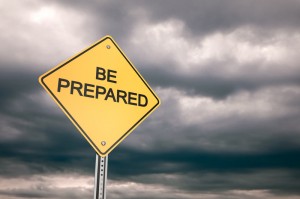 It has all been a challenge, but we are doing our best to prepare for the baby, ministry projects, and…everything…for the rest of our lives…Ha!
Prepare!
I was curious and so I typed "prepare" in a search of the Bible, and found that that word appears 174 times in the NASB. Many instances refer to the preparing of food or lodging, often for guests, or preparing for battle, or preparing to go to the temple and offer sacrifices. Preparation often goes hand in hand with being diligent, well-intentioned and wise.
God's plan and God's will are clearly shown in how he has wisely prepared and planned out all of creation and human history. He prepared a perfect creation for mankind, unfortunately Adam and Eve sinned… but God was prepared. He prepared the skins of an animal as the first sacrifice to cover their sin. (Genesis 3) He knew mankind would continue to become more and more wicked and consequently helped Noah and his family in preparing to survive the flood. God sought out Abraham and his descendants and prepared the way their family would move – even to Egypt – and then God prepared the way out of Egypt for that same family (now the Israelites). Since then, God has prepared the way for Old Testament judges, heroes, kings, and prophets to do His will.
Matthew 11:10 explains that John the Baptist fulfilled the prophecy from Malachi 3:1, speaking of the messenger before Christ,  by saying – "Behold, I send My messenger ahead of You, Who will prepare Your way before You."  Many of Jesus' parables explain how the master prepares dinners and wedding feasts, which were analogous to His Kingdom,  and exhorts us in the process that we need to be prepared! Prepare yourself and others for the battle of this life, in preparation for the next life, the enemy wants to take as many captive by vain philosophies and empty deceit as possible. (see Colossians 2:8)
As we prepare for our new baby and our new ministry with AOI, I am excited! And the baby and ministry are not the only exciting things. Check out these EXCITING promises from God's Word:
"Do not let your heart be troubled; believe in God, believe also in Me. 2 In My Father's house are many dwelling places; if it were not so, I would have told you; for I go to prepare a place for you. 3 If I go and prepare a place for you, I will come again and receive you to Myself, that where I am, there you may be also. 4 And you know the way where I am going." 5 Thomas *said to Him, "Lord, we do not know where You are going, how do we know the way?" 6 Jesus *said to him, "I am the way, and the truth, and the life; no one comes to the Father but through Me."  John 14:1-6
For we are His workmanship, created in Christ Jesus for good works, which God prepared beforehand so that we would walk in them. Ephesians 2:10
Therefore, if anyone cleanses himself from these things [wicked things], he will be a vessel for honor, sanctified, useful to the Master, prepared for every good work.  2 Timothy 2:21 (clarification added)
By faith we understand that the worlds were prepared by the word of God, so that what is seen was not made out of things which are visible.  Hebrews 11:3
But as it is, they desire a better country, that is, a heavenly one. Therefore God is not ashamed to be called their God; for He has prepared a city for them.  Hebrews 11:16
Therefore, prepare your minds for action, keep sober in spirit, fix your hope completely on the grace to be brought to you at the revelation of Jesus Christ.  1 Peter 1:13
Brian Mariani
If you would like to see if an AOI seminar is right for you, or you would like to help the work of Alpha Omega Institute, please visit our website events page or our donate page. Keep up to date with what AOI is doing.  Thanks for your partnership.