Mary Jo and I recently spoke at Westland Baptist Church in Katy, TX. The two sermon sessions I gave seemed very well-received, that is judging from the numerous comments and also the desire for more resources on the topics.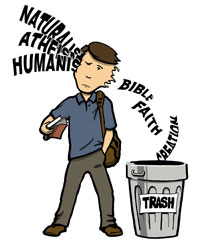 One of the points I made is that evolution is not science.  Instead, it is a philosophy posing as though it were science. I expected that the statement would raise a few eyebrows with some of the students who were present at the church. After all, we are very frequently told in school, newspapers, etc., that evolution is science – while creation is religion. After hearing that very false statement often enough, it is easy to be brainwashed into thinking it is true. I really hope that the statement I made sunk in deep with them.
Since evolution is not science but is instead a philosophy, then Colossians 2:8 applies directly:
"See to it that no one takes you captive through philosophy and empty deception, according to the tradition of men, according to the elementary principles of the world, rather than according to Christ."
Way too many people in the church have been taken captive though the philosophy of evolution. It has weakened their faith, if not destroying their faith all together. A couple years ago, a man commented after the sermon I had given in Oregon that he had struggled with evolution all his life. It had kept him from fully embracing the Bible, God, and his faith. He said that the one statement I made that evolution is not science but philosophy changed his life forever. All of a sudden it became clear to him what the issue really was. Indeed, he had been taken captive by the philosophy of evolution.
I also gave plenty of evidence, during those two sermon sessions, that God's Word could be trusted and that evolution is not true. I am praying that the message will help more people fully embrace God and His Word!  There is a huge battle of worldviews in our society today. Those who wish to say there is no God would have you believe so based on the "science of evolution." However, as it says in Colossians, "See to it that no one takes you captive through philosophy. . .  ."
Dave Nutting
If you would like to see if an AOI seminar is right for you, or you would like to help the work of Alpha Omega Institute, please visit our website events page or our donate page. Keep up to date with what AOI is doing.  Thanks for your partnership.