AOI always enjoys opportunities, with two just this past week, to give creation presentations along with museum tours of the Dinosaur Journey Museum in Fruita, CO. We have heard that this most recent tour has already had an impact on some of the participants!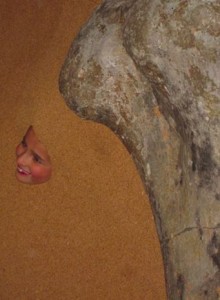 One was for a group of college students. The other group was a vibrant group of home educators and their children. The children really enjoyed the station where you can "dig" up dinosaur bones. Actually, as you can tell by the picture, some of the students enjoyed burying others in the group as much as digging up bones.
Of course, like most museums across this country (except for a few creationist ones), the amount of evolution presented is daunting. Without a proper creationist introduction, it would be easy for these students to "get buried" by the evolutionary philosophy.  This is happening to a high percentage of students in the public school system, as well as many Christian students.
We encourage you, if you get out to Western Colorado, to contact Alpha Omega Institute for materials or even to arrange for a presentation and creationist tour. You can then take the information back to your church, or so we would hope.
If you are not coming out this way, call AOI and arrange to have one of our speakers come to your church or university, thus bringing the truth of creation into your community.
Another option is to come to one of our family camps or perhaps college age students can come out to take part in our Discover Creation Training Institute.  You can read about these great opportunities on our website!
Whatever you do, fortify your family with the truth!
Dave Nutting
If you would like to see if an AOI seminar is right for you, or you would like to help the work of Alpha Omega Institute, please visit our website events page or our donate page. Keep up to date with what AOI is doing.  Thanks for your partnership.