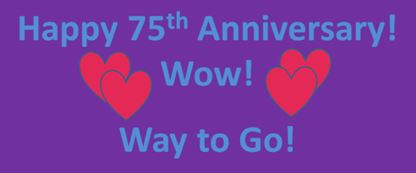 My parents, Irwin and Barbara Nutting, just celebrated their 75th wedding anniversary. First of all, that is hardly heard of because of the age attainments necessary. Secondly, many people are amazed at 75 years because of the fact that people these days seem to drift in and out of relationships with little commitment to each other long-term.
I realize that circumstances can make a marriage seem unbearable, but so many trials that cause many people to split apart, can be overcome. Many "unbearable" situations can actually be overturned to bring victory in a marriage and lead to 75 years. But it takes effort and it takes commitment. Enough preaching.
I really appreciate my parent's commitment to each other and working through the difficulties of raising 4 boys together to achieve this amazing milestone of 75 years. That is a great encouragement and example for Mary Jo and I. Good job, Mom & Dad.
Dave Nutting
If you would like to see if an AOI seminar is right for you, or you would like to help the work of Alpha Omega Institute, please visit our website events page or our donate page. Keep up to date with what AOI is doing.  Thanks for your partnership.