Introduction:
The ocean is salty and full of sediments. How salty is the ocean? How much sediment is in the oceans? Is this evidence that the earth is only thousands and not millions of years old? Why is the ocean salty? Does the saltiness of the ocean fluctuate?
Naturalistic/Evolutionary Answer:
There is not as much sediments in the ocean, as some expect, because seafloor sediments have accumulated at a much slower rate in the past and high levels of tectonic activity would rid the oceans of much of the sediments that had been deposited.[i]
The slower rate of sediment accumulation in the past may be in part due to increased desertification and human influence on the land, like so much deforestation, loss of vegetative cover, and simply hard use of the land. Live Science reports that "human activity causes 10 times more soil erosion than all natural processes combined."[ii]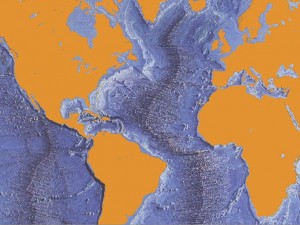 Some sediment has subducted into the crust of the earth due to the movement of tectonic plates. Sea floor spreading is the process of the sea floor moving like a conveyor belt with new rock churning up from below and sediments on the ocean floor funneled back into the earth under ocean trenches.[iii]
Oceans have also been in different places in the past and so as continents uplift, submerge, or change over time, the oceans are not constantly stacking up sediment in one place. Ocean floor can uplift and again become landmasses.[iv]
How salty is the ocean? "Some scientists estimate that the oceans contain as much as 50 quadrillion tons (50 million billion tons) of dissolved solids. If the salt in the sea could be removed and spread evenly over the Earth's land surface it would form a layer more than 500 feet thick ."[v]
The oceans are salty because of the sediments and salts that are constantly washed out into the sea from off of the continents. The oceans are not too salty because today they "probably have a balanced salt input and outgo" because "about the same tonnage of salt from the ocean water probably is deposited as sediment on the ocean bottom."[vi]
The extensive size of the oceans (about 70% of the Earth's surface) create challenges in truly understanding everything about the oceans. "The salinity of ocean water varies. It is affected by such factors as the melting of ice, inflow of river water, evaporation, rain, snowfall, wind, wave motion, and ocean currents that cause horizontal and vertical mixing of the saltwater." It is also possible that "sea life has a strong influence on the composition of sea water."[vii]
"At least 72 chemical elements have been identified in sea water," with some more abundant in certain places. Europe, for instance, contributes more salt to the ocean than Australia. In chemistry, when certain chemicals come together, they become insoluble (not dissolvable in water). So those solid salts will gradually fall to the ocean floor.[viii]
Ultimately, there are so many things going on with…the ocean, that there may be many other factors that affect the sediment and salt content of the ocean. Rates and estimations are approximated and so one has to be careful in evaluating, extrapolating, and making conclusions about the age of the ocean.[ix]
Check back tomorrow for the Creation Answer.  Thanks again for your constructive help.
by Brian Mariani and others
Is the above correct? Do you evolutionists agree with this position? I have tried to write it as you believe it. Do you have any disagreements or concerns or additions?
Before commenting, please read the following disclosures.
Any offensive language will automatically disqualify your comment for publication, even if the arguments contained are good. Please comment on the ideas that are presented and not the presenter.  If your comment becomes an ad hominem argument and does not substantially address the issue, your comment will be disqualified as well.  We are looking for real arguments, not fallacious ones, so that we can present and challenge opposing ideas and arguments as they are truly believed by evolutionists.  We do not want to tear down straw men as well as you do not want to be misrepresented. Also, please keep your comments as brief as possible, and if the majority of the comment does not address the current issue, but becomes a red-herring, it will not be posted as well. If your comment does not fall into one of the above restrictions, then your comment will be posted unedited (you may want to check your spelling, grammar, etc.) We thank you for your time and comments.
One thing to keep in mind, each blog is one piece of evidence. Evidence has to then be interpreted, which is not a fact…but evidence strengthening or weakening a specific hypothesis or theory. So there can be multiple ways of interpreting the same evidence. I am not being unscientific, but asking more questions and being skeptical is being more scientific. I am still working on these, so please help with your comments.
If you would like to see if an AOI seminar is right for you, or you would like to help the work of Alpha Omega Institute, please visit our website events page or our donate page. Keep up to date with what AOI is doing.  Thanks for your partnership.
---