Dave Harper, AOI's chairman of the Board, is a very perceptive man, with deep insights into spiritual truth. He also has a great sense of humor and a practical way of seeing lessons for life in everyday experiences. One day he told me a story about his brother trying to make his way home on a horse on a very dark night. He came to a spot where the horse refused to go on. After several attempts at circling the horse back to the same spot, the horse would still not proceed. Of course, Dave's brother got quite frustrated with that. Finally, he got off the horse and went to investigate. That's when he almost walked over a cliff! The horse knew the problem and had refused to go.
Many young people are preparing to go to college this fall. What they don't know is that there is a cliff ahead. They need someone to warn them and prepare them for what they are about to encounter. I sometimes feel that the AOI staff is like the horse, trying to warn parents and students of the dangers ahead.
Just what is the "cliff" I am talking about? It is a spiritual one. When the students hit the campus and all they get from their instructors and peers is the philosophy of evolution along with other anti-Biblical arguments, they often literally fall off the cliff in their faith. Mary Jo and I frequently meet these students when we speak on university campuses. Many are confused and floundering in their commitment to Christ. Some of them, even from Christian homes, are now arguing for atheism. Many parents have sadly told us about their son or daughter who "used to be active in the church," but have now fallen over that cliff. This is much more prevalent than most parents would like to think. The secular colleges, for the most part, have become "change agents" with some professors actively and purposefully trying to shake the belief systems of the students. Unfortunately, many Christian colleges also deliver an evolutionary message.
That is one reason we speak at several universities every year. Hopefully, we can give the students some "reigns" to hold onto so they don't go over the edge. Many students have expressed appreciation for what AOI speakers have given them… but there are so many more that need to hear.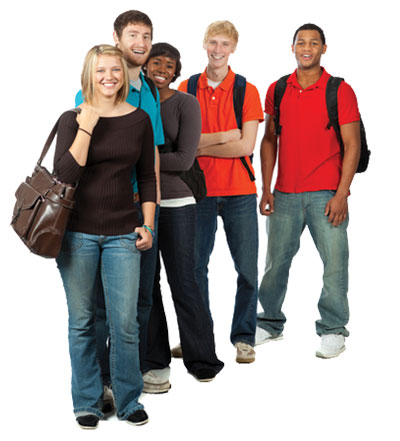 Students need your help! So what can you do? If you haven't been preparing your students all along, you will need some drastic action to prepare them. Perhaps they have already fallen over the cliff in middle school or high school or are desperately clinging to a tree branch trying to hold on to their faith. Here are some steps you can take.
First and foremost, pray with and for them. Talk with them about what they will encounter at school and equip them to stand firm. Bring them to our Creation Family Mountain Adventure or our Green River Raft Trip yet this summer. Go through our Discover Creation DVD series with them. Direct them to our website, get other quality resources in their hands, and schedule a Discover Creation Seminar in your church or on their campus this fall. These are not quick-fix cure-alls, but people have told us that AOI's creation teaching is what got them through college with their faith intact.
Over the next few issues of Think & Believe, you will also be hearing about a new undertaking that AOI is planning. See the Director's Column in this issue to learn more about AOI's plans for a one-year program to help train and equip students to stand firm in the battle they will encounter when they arrive on campus. Whatever you do, keep in mind that there is a cliff ahead! Listen to the warning of these "ol' horses" at AOI and be that wise horse for your own family.
By Dave Nutting
Originally published in the July/August 2012 issue of Think & Believe newsletter.
Please call our office or email us at aoi@discovercreation.org for additional resources on these subjects.