Recently at a small group Bible study we attend, we were studying the book of Jonah. Through the study the fact came up that some people say Jonah contains so many remarkable (some might say miraculous) elements, that it can't be taken literally. This subject naturally connected the conversation to Genesis.
We discussed the fact that many people have a hard time believing that such things as a man being swallowed – and rescued – by a great fish, or God creating the universe in 6 days, or a flood that covered the whole earth, can possibly be taken literally. Many might object, "That kind of thing just doesn't happen in the real world. It's not natural."
Now, it is understandable when unbelievers have a hard time accepting the Bible. As it says in 1 Corinthians, "But a natural man does not accept the things of the Spirit of God, for they are foolishness to him; and he cannot understand them, because they are spiritually appraised." (1 Cor. 2:14) However, what about those who are Christians, believers and followers of Christ? Is it consistent when they cannot accept the teaching of Genesis as literal truth?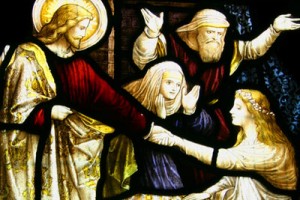 My question for those who fall into that category is this: do you believe in miracles?
Do you believe that Jesus was born of a virgin? (Isaiah 7:14; Matt. 1:25)
Do you believe that Jesus raised people from the dead? (Luke 7:22; John 12:1)
Do you believe Christ Himself was raised from the dead? (Romans 6:9; Col. 2:12)
Do you believe that God can do the impossible? (Mark 10:27)
God does not change. (Malachi 3:6; Heb. 13:8) So if we believe in the New Testament teaching of Jesus, how can we disregard the Old Testament account of the beginning of the world and all that is in it, or dismiss it because it is inconsistent with the teaching (or science) of society today? God's word is truly trustworthy, but it certainly isn't always consistent with popular worldly teaching!
One of the beautiful aspects of the consistency of scripture is that God is still doing amazing and miraculous works today. Take for example the testimonies of believers coming to Christ, and the many accounts of illnesses healed and marriages restored. When considering these, we must remember that we cannot fathom God's ways and His thoughts, for they are higher than ours. (Isaiah 55:8-9) Our all-knowing God may answer prayer with a "yes," but often the answer is "no," or "wait." So even when we don't see the answers we expect, or miraculous healing and restoration in every circumstance, we can still be assured that our unchanging God is still comforting, healing and restoring His people in ways that we cannot entirely comprehend.
So I encourage you to consider: is your view of God consistent? Do you accept the whole of the Bible as the inspired word of the unchanging God – and believe it? My guess is that many people (if not all), myself included, don't always actively believe that God is truly who He says He is in Scripture, and that He does what He says He does. How would our view of God and our walk with Him change if we truly take Him at His word?
Will you join me in this challenge, to daily believe God's word and live in light of who He is? Let's remember that our God can do the impossible!
Aimee Mariani
If you would like to see if an AOI seminar is right for you, or you would like to help the work of Alpha Omega Institute, please visit our website events page or our donate page. Keep up to date with what AOI is doing.  Thanks for your partnership.