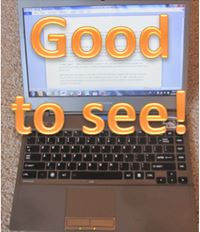 It is good to be writing this blog — especially on THIS computer. Let me explain. Mary Jo and I were speaking on creation at St. Cloud State University in Minnesota. After our time there, and a very late dinner followed by a 1.5 hour drive back to the home where we were staying, we arrived about 1:30 in the morning.
I had just dropped into bed at 2 AM when Mary Jo asked if I had packed her laptop computer. It was not in her bag. I told her I didn't, but as I thought about it (as clearly as I could at 2 AM), it suddenly dawned on me that I had indeed packed her computer, but in my bag thinking that it was mine. Oh, no, I had left my computer in the back of the room where we were speaking.
Thoughts of panic went through my brain and body as I was no longer sleepy. "Would I ever see that computer again?"   "What all was on that computer?" Also, I had just finished putting together my program for one of the next nights of speaking in Minneapolis and had not backed it up yet. What was I going to do?
Well, prayer was a great place to start. Mary Jo & I committed that computer and my dumb mistake to the mercy of our Lord. After some time, we did manage to get to sleep. At 7 AM, I called the student center office in the building we were in. I was certainly relieved to hear that the computer had been tuned in to Lost & Found. Thank You, Lord Jesus! So, now you know why it is great to be writing this blog on THIS computer!
For the person who was honest enough to turn it in to Lost & Found, THANK YOU! And to Jed, thanks for bringing it down!
Dave Nutting
If you would like to see if an AOI seminar is right for you, or you would like to help the work of Alpha Omega Institute, please visit our website events page or our donate page. Keep up to date with what AOI is doing.  Thanks for your partnership.