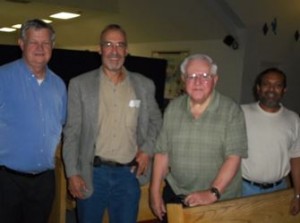 A friend of mine from Houston, TX, whom I had not seen for twelve years, called and informed me that he had found some cheap airline fares from Denver to Houston on the web.  He wanted to see if I would be interested in flying to Houston and teach, if he purchased the tickets.  I replied, "sure, go for it!"  He then let me know he would set up the teaching schedule for the trip.
On arrival, he relayed the problems that accompanied the planning of the schedule.  In other words, nothing was scheduled.  We prayed.  That afternoon as we talked with some of his friends, he decided to talk to their pastor about teaching at church.  God opened the doors so I could teach that evening.
He also knew of a Bible study, that he had attended in the past when time allowed, that usually met in the evening on the following day.  We unfortunately arrived thirty minutes late to the church.  They had just finished their pray time and were ready to start the Bible study.  Out of the blue, the leader asked me to teach.  The next day, another church asked me to teach Sunday school.  Is God good or what!
I am totally convinced He sets my schedule.  A friend from Minnesota once told me, "our disappointments are His appointments."  He had given me this insight while we were in Russia and all of our plans were unraveling.  I am so glad God is in control!
Proverb 16:9  – A man's heart plans his way, But the LORD directs his steps.
Rich Stepanek
If you would like to see if an AOI seminar is right for you, or you would like to help the work of Alpha Omega Institute, please visit our website events page or our donate page. Keep up to date with what AOI is doing.  Thanks for your partnership.