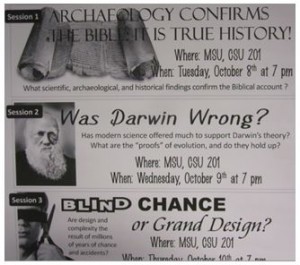 As you can see from the picture of the poster, Mary Jo and I were recently at Minnesota State University at Mankato. The presentations started last Tuesday evening, I also spent a lot of time at a booth with some college ministries (Maranatha Christian Fellowship and International Student Outreach).
While there, I had a campus newspaper reporter do an interview with me. I gave a lot of good information to him, but you never know about the objectivity of the reporter as well as his editor.  Sometimes there is accurate reporting while at other times —  well, sometimes, I can't even recognize what they quoted me as saying. Time will tell for this article.
We love engaging students in conversation if they tarry long enough by the booth. The conversations usually range from those that fully agree with us to the atheists who are really looking for a good argument and want to let us know that we have no clue about what evolution teaches (even though we have been giving lectures on it for 30 years).  One student I talked with seemed genuinely interested in coming to the programs (hope she made it).  Of course, the candy given out at the booth always creates some interest and does help lure people in to talk. It's kind of like going fishing for open minds, and we pray God will continue to send them our way.
We want to thank all our partners, both prayer and financial, for making these university tours possible. We hope you understand what a difference you are making in students' lives.
Dave Nutting
If you would like to see if an AOI seminar is right for you, or you would like to help the work of Alpha Omega Institute, please visit our website events page or our donate page. Keep up to date with what AOI is doing.  Thanks for your partnership.