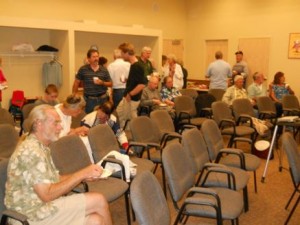 Recently I taught in Paonia, CO, for a church which was trying to reach out to their community.  The seminars were held at the public library from Monday through Wednesday.  Before the seminar, I was talking with the pastor about what key topics I should teach on and other important event information.  As we talked, I discovered they had double booked their Wednesday night program.  Wednesday was also the opening night for their local AWANA ministry.  The pastor had realized this after the secretary sent out the mailings for the creation seminar.   We both agreed God must have something special planned for the Wednesday night creation teaching, and He did!
A man came to the library to attend a geology program, but was confused about the actual date.  He came a day to early.  As he talked with one of the church members, he discovered his mistake, but not until after he had heard some of my talk on the scientific evidence for creation.  To my disappointment, the confused guest did not want to stay for the seminar and decided to leave.  Then, to my amazement, he returned!  I tried to listen in on his dialog with a church member.  The guest had asked the question; "Why is this information so important?"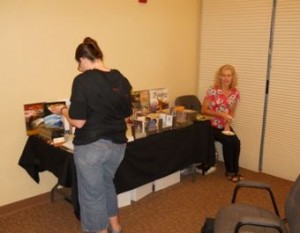 It is vitally important, because teaching creation reveals scientific evidence that points to the existence of God and the Bible proclaims information about the Creator and how we can have a relationship with Him.  He stayed for the two and a half hours, listening to the program, asking questions, talking to the pastor, and became interested in learning even more.  As I listened to his questions, I discovered that there is truly a lack of both true scientific and Biblical information in the world.  Because of this lack of knowledge, people are missing the blessings and salvation from the God of creation.
Hosea 4:6 "My people are destroyed for lack of knowledge…"
Rich Stepanek
If you would like to see if an AOI seminar is right for you, or you would like to help the work of Alpha Omega Institute, please visit our website events page or our donate page. Keep up to date with what AOI is doing.  Thanks for your partnership.