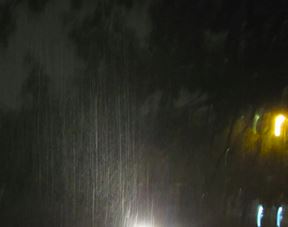 Mary Jo and I were giving a presentation at the Maranatha Christian church (U of Minnesota campus ministry) on a Wednesday night, about a week and a half ago. Thunder, lightning and a huge downpour (pictured right) lasted for the duration of the evening.  Up until then, for our university presentations here in Minnesota, we had weather that made you want to go outside and enjoy the fall weather — but certainly not that night.
Once again, it seems that God was punctuating our lectures as well as conversations. The topic was Noah's Flood – True! God's Grace in the Midst of Judgment. How fitting! One person came in absolutely drenched from the huge downpour. What a great demonstration of the Flood topic. Further punctuation was that he had just been given a t-shirt which he was wearing under his drenched sweatshirt which he shared as a testimony that night. The t-shirt had a large picture of Noah's Ark and the words "The End is Near!"
I love it when God does that!
Dave Nutting
If you would like to see if an AOI seminar is right for you, or you would like to help the work of Alpha Omega Institute, please visit our website events page or our donate page. Keep up to date with what AOI is doing.  Thanks for your partnership.