I had an unexpected surprise not too long ago.  A man on a motorcycle appeared in our yard one afternoon, and I was puzzled about who he was and what he wanted.  As I was pondering, I came to the conclusion he was a friend from Nebraska… but what was he doing here?   He lived over 500 miles away!  As we exchanged greetings, he let me know that he took the risk of driving to Grand Junction so he could learn more about creation and Genesis.  We had a wonderful two days of fellowship and discipleship.  I used some of my PowerPoint creation topics to teach, as well as a leisurely drive through the Colorado National Monument to explain the evidence of the world-wide flood of Noah's day.
He commented the following about the scientific evidence we had discussed, "Taking me up on Glade Park (Colorado National Monument) and teaching me new things, has made God more awesome to me than ever. His power makes me shudder."  Information on Genesis, creation, and the Flood does change people's lives.
As I reflected on the time I spent with my friend, I realized it is just as important to teach one person as it is to teach a huge group.  Normally I like to teach to a large audience, because I feel like I can reach more people that way, but that may not always be the case.
Take for example Philip, in Acts chapter eight, who travels to the city of Samaria because of the persecution in Jerusalem.  In Samaria, he preached Christ to them and many were saved.  Next, the angel of the Lord sends Philip to a road which leads from Jerusalem to Gaza.  This is over fifty miles from the city of Samaria. This is a long way when traveling by foot.   God sends him there for the instruction of just one man about the LORD.  This man is the Ethiopian eunuch.  The eunuch believes the words of God and is then baptized.  Is preaching and discipling just one man important!  Yes, it is!  He had an influence on his own country.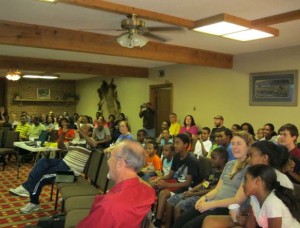 Now we come to the Labor Day weekend. The Johnsons, Sue, and I had the opportunity to minister at a Bible conference center located just north of Colorado Springs, CO.    We ministered to, none other than, an Ethiopian church.  Almost all of the adults had emigrated to the U.S. from Ethiopia, and some of them could not even speak English.  As I was teaching, I wondered if Philip had an effect on these people through the instructing of just one man, the Ethiopian eunuch.
I did not travel to Nebraska to instruct my friend about creation and Genesis, but I believe he was led by the Lord to travel over 500 miles to come and see me.  I wonder what effect he will have on the people in his area, including friends and family, with his increased knowledge of Scripture.  God loves all people and He wants them to come to the saving knowledge of Jesus Christ.
Rich Stepanek
If you would like to see if an AOI seminar is right for you, or you would like to help the work of Alpha Omega Institute, please visit our website events page or our donate page. Keep up to date with what AOI is doing.  Thanks for your partnership.