Frank Sherwin, a friend of mine serving at ICR, sent me a link to an interesting article. According to the online site, a canyon almost twice as long as the Grand Canyon has been discovered under the ice in Greenland by utilizing airborne radar data.  ( to read the article – Massive 'Grand Canyon' Found Hidden Beneath Greenland's Ice ; here is another article with additional links and some quick thoughts from a different perspective – Grand Canyon Demoted by New Discovery)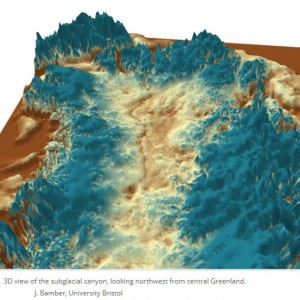 The winding channel is about 2600 feet deep in some places. The article states:
"One might assume that the landscape of the Earth has been fully explored and mapped," said Jonathan Bamber, professor of physical geography at the University of Bristol in the United Kingdom, and lead author of the study. "Our research shows there's still a lot left to discover."
I find that quite intriguing, especially considering the quest to discover Noah's Ark which some suggest is under a thick blanket of ice in the mountain range encompassing Mount Ararat. Skeptics have maintained that an ark of the Biblical portion (1.5 to 2 football fields in length) should be a piece of cake to locate. They then use that assumption to dismiss the idea that there really was a Biblical Flood.  This discovery shows that even massive items or structures beneath ice sheets and glacier fields can certainly go undetected for a long time.  Even as large as Noah's Ark was, it is miniscule compared to the size of the recently discovered canyon.
It is also exciting to think about other features that may lie hidden, either in the depths of the sea or even on land. Some of these may be hidden like this canyon, but other things may be just sitting under our noses waiting for someone to realize their significance.  A good starting point could be spending some time with Google Earth images. If you decide to pursue it, have fun exploring!
Dave Nutting
If you would like to see if an AOI seminar is right for you, or you would like to help the work of Alpha Omega Institute, please visit our website events page or our donate page. Keep up to date with what AOI is doing.  Thanks for your partnership.