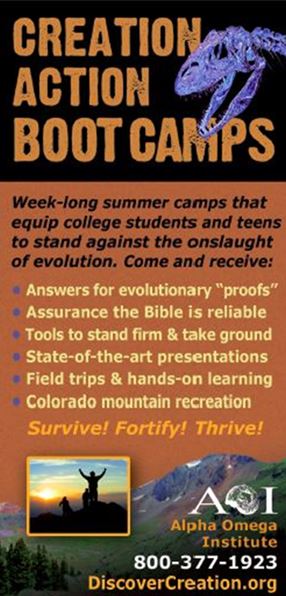 Many youth groups across this country are already in the midst of planning what they will do for the coming year, as well as next summer's programs or trips.
Let me make a suggestion: Plan on doing something that will help them stand firmly against the indoctrination that many of them are being exposed to in schools, museums, the media, etc. What I would specifically suggest is that you look into AOI's 2014 Boot Camps, which are meant to fireproof a teen or college student's mind from the onslaught of evolutionary indoctrination and other anti-Biblical philosophies.
Unlike military boot camps, these are a real BLAST and are mentally stimulating! Please copy or forward this blog to your youth leader as well as other youth or families you know.  You can send people to the Boot Camps page on our website for additional information.
The specific 2014 Boot Camp Dates & Locations have not been finalized as yet, but if you let us know of your interest, we will inform you with the specifics ASAP. We are already considering some great Colorado, and even Glacier National Park (Montana), locations. Redcloud Ranch, near Lake City, has always been very well received and we are talking with them for 2014. Perhaps you want us to tailor one to your specific location, needs, and desires. Contact us!  800-377-1923 or email AOI@DiscoverCreation.org.
Seeing the results of AOI's camps in the past, tells me that you don't want to miss out.
Dave Nutting
"AOI's teaching is what got me through college with my faith intact."
If you would like to see if an AOI seminar is right for you, or you would like to help the work of Alpha Omega Institute, please visit our website events page or our donate page. Keep up to date with what AOI is doing.  Thanks for your partnership.