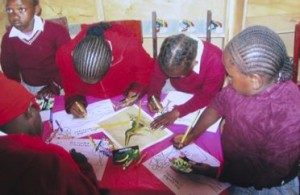 Alan and Diane Galbraith are volunteers with AOI and do a wonderful job working with the children. They shared AOI Discover Creation Children's Adventure with missionary friends who are working in Kenya. The photo shows the Kenyan people using some of the resources in that VBS package. As you can see, the adults are really getting into it – besides the kids!
This VBS package was developed by Lanny and Marilyn Johnson, who have been doing a lot of VBS's on creation as well as family programs through AOI. So it is really good to see that missionaries are picking up this valuable tool to use in their own ministry.
This is the type of multiplication that we are excited to see. Lanny came out of atheism after hearing Mary Jo teach about design. Later, he and his family joined AOI.  Lanny and Marilyn were eventually instrumental in training the Galbraiths. The Galbraiths shared the information with missionary friends and then the material goes to Kenya!  I hope that it does not end there, but only time will tell.
As it says in 2Timothy 2:2:
"And the things that thou hast heard of me among many witnesses, the same commit thou to faithful men, who shall be able to teach others also."
If you wish to consider using AOI's Discover Creation Children's adventure, you can see more of what it includes by going to our Kid's Curriculum page on our website.
Dave Nutting
If you would like to see if an AOI seminar is right for you, or you would like to help the work of Alpha Omega Institute, please visit our website events page or our donate page. Keep up to date with what AOI is doing.  Thanks for your partnership.