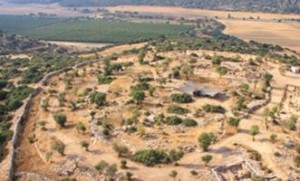 FoxNews.com (July 18, 2013) reported on an archaeological discovery which once again supports the existence of the Biblical King David as well as the reliability of the Biblical record. In the very region where King David (Israel's second king, 1010-970 BC) killed Goliath, a 10,000 plus square foot palace has been discovered. The palace is thought to be one of King David's palaces and dates to the Biblical timeframe of his reign in Israel.
Why is this discovery important? Many Bible skeptics have claimed that the existence of King David and his slaying of Goliath was purely fictional. However, King David's existence was previously confirmed by archaeological discoveries as David's name was inscribed in two ninth century BC texts, the Tel Dan Inscription and the Moabite stone pictured here. The latest discovery is very important as it clearly shows David's stature as the ruler of Israel. Some have questioned that it belonged to David, but this large palace was found in the ruins of what is considered to be the Biblical city of Sha'arayim. After David killed Goliath, the Philistines ran away and were slain on the "road to Sha'arayim" (1 Sam 17:52). Sha'arayim is also mentioned as one of the cities "unto the reign of David" (1 Ch 4:31). So this discovery certainly fits the Biblical record.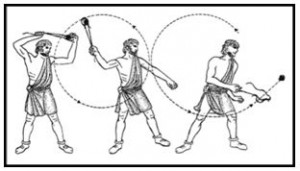 What about David's slaying Goliath with a sling? Slings are known from both archaeology and written historical records as very important military weapons. Sling cords were up to 3 or 4 feet long and a typical sling stone was about 2 to 2.5 inches in diameter. (See the picture of a typical stone in my hand which I picked up in the very valley of the Philistine battle site.)  When the sling is rotated rapidly, the stone is hurled at a great velocity which can easily drop a "Goliath."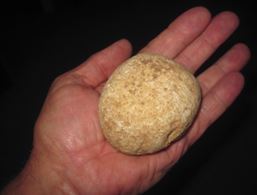 Are slings accurate? Oh, yes. As a kid, my brother and I made slings and practiced with them. Our practice was cut short one day after my brother let go too soon and his rock was propelled backwards right through the window of our house. It was a good thing my dad wasn't watching out the window that day!
Since it is known also that men of great stature (giants) have existed in the past and today, the account of David killing Goliath with a sling is not only believable, but is, as the Bible indicates, what helped to propel David to the position of the King of Israel and later to build one of his palaces in Sha'arayim.
Dave Nutting
If you would like to see if an AOI seminar is right for you, or you would like to help the work of Alpha Omega Institute, please visit our website events page or our donate page. Keep up to date with what AOI is doing.  Thanks for your partnership.