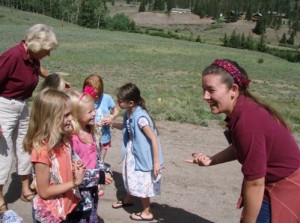 A recent opportunity has become such a blessing to us, that I thought I would let you in on it.  As Aimee and I are just starting out and plugging in to AOI's Creation ministry, God is continually teaching us.
We had the privilege to go to Redcloud Family Camp and help out with the Children's ministry. Alan and Diane Galbraith were in charge with a lot of help from their grandson, Griffin. Sue Stepanek, Aimee, and I were all able to help as well. So we had the inside peek to what goes on in the Children's ministry.
For five full days, we helped out as we could with plenty of teaching, labs, activities, crafts and more. We covered a lot of information and did a lot of hands-on learning. Aimee and I learned a lot of good classic activities and had a lot of great new ideas.
If you have never experienced a Children's Creation week, check it out. It's great teaching on Dinosaurs, the Creation vs. Evolution debate, the amazing design of animals, the amazing fossil evidence of Noah's flood, and I even shared about The Genius of Ancient Man (check out their blog). This includes great puppet shows too!
There are great exhibits, demonstrations, and labs with a lot of dinosaurs, animals, fossils, shells, minerals, and other rocks. This is a great opportunity for kids to explore, observe, and do science for themselves. They even got to measure out the life-size perimeter of Noah's Ark in a field outside, and explore the great scale of the universe online!
The kids made some great things to take home to remind them of the day's teaching including:
A Constellation viewer using a Pringles can
A Personally designed Dino T-shirt
A Creation Bead wristband – to remember God's order of creation in 6 days
A Candle decorated with flowers picked by each kid
A shell craft
A fossil imprint plaster
A homemade sock-puppet
And More!
The kids even had a lot of fun memorizing 5-10 verses each and got little prizes to take home! Wow, what a great time…and a tiring time, but we are sure that God was working through that week! What an amazing ministry this is and can be for kids all over the country…or even the world! Praise God!
Brian (and Aimee) Mariani
If you would like to see if an AOI seminar is right for you, or you would like to help the work of Alpha Omega Institute, please visit our website events page or our donate page. Keep up to date with what AOI is doing.  Thanks for your partnership.