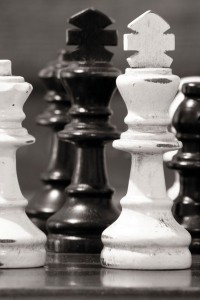 Put up your fists! Are you ready for a fight?
Every day of a Christian's life contains some conflict. It may be physical or psychological persecution, philosophical debate, or the everyday conflict of the spirit against the flesh; but we are always fighting something. Some people relish the thought of a debate, but few, if any, truly enjoy being "on guard" all of the time.
In reality though, isn't that what we are called to do? 1 Peter 3:14-15a says "But even if you should suffer for the sake of righteousness, you are blessed. And do not fear their intimidation, and do not be troubled, but sanctify Christ as Lord in your hearts, always being ready to make a defense to everyone who asks you to give an account for the hope that is in you, yet with gentleness and reverence." That sure looks like "on guard" language to me!
When I think of this in terms of defending Biblical Creationism, I am challenged to equip myself with answers. As a follower and representative of Christ, I want to be able to "make a defense" when God's authority is challenged. The Creation vs. Evolution battlefield is full of heated skirmishes and drawn battles, making a peace-loving soul like myself cringe at the thought of the conflict and tension that I will encounter at most every turn.
Does taking a stand for the accuracy of a literal interpretation of Genesis require a passionate desire to take stabs at my "enemy," hoping to take him down? In order to be used by God, do I need to be armed with an arsenal of scornful words and a mental resolve to "show no mercy?"
Remember the rest of that verse from 1 Peter 3: "Yet with gentleness and reverence."
I want to be armed and ready with God's truth (His word) so that I am equipped to represent Christ well; but that doesn't require a "thirst for blood" and ravenous need to chew up and spit out my opponent! I don't seek to defend the truth of Creationism so that I can put a notch on my metaphorical pistol when I out-talk someone in a debate.
I want this to be true of me: "And keep a good conscience so that in the thing in which you are slandered, those who revile your good behavior in Christ will be put to shame." (1 Peter 3:16) Even when I am scoffed at because of the apparent foolishness of my beliefs, I can still speak gently and reverently, knowing that it is God who works through His Spirit and uses the evidence to confirm His truth.
So whether you are like me and inclined to be a peacemaker, or the idea of a war of words gets you chomping at the bit to get a piece of it, I encourage you to keep this in mind; when you are in the midst of a conflict of beliefs, remember the end of 1 Peter 3:15 (and read the rest of 1 Peter 3:13-16). Always be ready to make a defense, but in as much as you can, do it the way God designed. After all, He's the one we're fighting for.
Aimee Mariani
If you would like to see if an AOI seminar is right for you, or you would like to help the work of Alpha Omega Institute, please visit our website events page or our donate page. Keep up to date with what AOI is doing.  Thanks for your partnership.