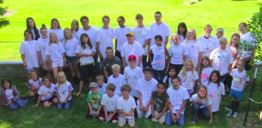 It was a fun, but challenging week at Camp Shiloh in Wyoming, teaching 45 kids, ages 6-16, from extremely diverse backgrounds. Some of the kids were from solid Christian homes and have been at camp every summer for many years. Others were there for the first time and came from extremely difficult home situations. In addition there are cultural differences, as about ¼ of the kids are Native Americans from a nearby reservation.
The knowledge level and spiritual understanding of the kids was so varied. Some were strong believers in Jesus – others didn't even know who He is. Teaching such a diverse group can be a real challenge, but we believe each child came by God's sovereignty and design. Each one is fearfully and wonderfully made and needs to know the truth of Creation and the wonderful love of the Lord in salvation.

Camp Shiloh is an interdenominational camp held at Circle J ranch near Ten Sleep, WY, at the base of the beautiful Big Horn Mountains. The camp sits in a magnificent canyon, and has an interesting history as a cattle ranch, apple orchard, and now a Christian camp and retreat center. Our meetings were held in a quaint historic chapel, and we enjoyed watching a flock of sheep pastured near our campsite, a cattle-drive down the main highway one morning, and the beautiful rushing river that ran through the camp. The only down-side was the heat during the day and the gale-force winds that threatened to blow us away one night (quite an experience in our little roof-top tent!)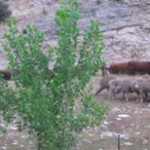 Creation ministry on the road sometimes has other interesting "challenges." One night, I had an unexpected surprise as I made a mid-night journey across the camp to the necessary facilities. As I rounded the corner to the bathhouse, I was royally doused by a sprinkler, right by the door of the ladies' bathhouse! I managed to get inside and do my business, but managed to get doused again as I tried to dodge the sprinkler on my way out. I'm glad it was a warm night. It really was pretty funny, and now I know how they keep the grass so beautifully green in this dry canyon country!
We pray that God will water the seeds planted in the hearts of kids that week and touch the life of each child at their level of need. May the lessons learned through the teachings, songs, memory verses, crafts, games, cabin times, and relationships take root and grow strong. What a privilege and blessing it is to teach the truth of Creation, the reliability of the Word, and the wonderful gift of salvation in Jesus!
Mary Jo Nutting
If you would like to see if an AOI seminar is right for you, or you would like to help the work of Alpha Omega Institute, please visit our website events page or our donate page. Keep up to date with what AOI is doing.  Thanks for your partnership.