Atheists and agnostics contended with my blog, which honored God for clearing the smoke from the forest fire when we prayed. They asked why this God is interested in the smoke, but doesn't seem to care enough to end poverty, disease, and hunger. To some of the committed atheists who I hear from, it becomes one excuse to claim that God doesn't exist.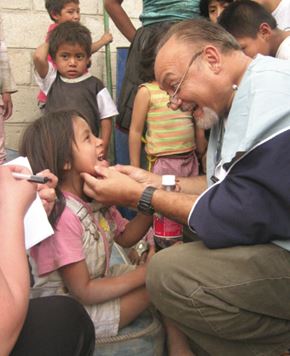 There is a powerful concept that atheists have totally missed: God does care. Actually, God really showed that he cares and is doing something about the problems by stepping into His created world. Two thousand years ago was the start of an amazing movement which turned the way people saw and responded to the needs of other individuals upside down. This is when Jesus came to earth, announced the Kingdom of God, demonstrated it with power by healing thousands, restoring sight to the blind, making the lame to walk, and feeding thousands of people. Most importantly, he empowered those who believe in Him to do even greater things than He did. Even though the wickedness of this world nailed Jesus to a cross (another topic), His kingdom has been advancing throughout the world ever since– especially by those who are His followers.
Look around. You can see the results of God's intervention which He started way back then. Keep in mind that God usually uses people to carry out his desires. Frequently people pray for God to help a need or a group of individuals. When they are done praying, sometimes they are left with the distinct impression or, even a stronger sense as if by an audible voice asking, "What about you? I've chosen you to be my instrument to bring that about." Today, there are hundreds of thousands of non-governmental orphanages, medical clinics, food and clothing banks, housing projects, etc., which had their origins when Jesus' followers prayed and then acted on His teaching to have an impact not only in people's spiritual needs, but also in their physical needs – food, clothing, shelter, and health.
Yes, there are some groups led by those claiming to be atheists who have done something significant, although that number is a fraction of the multitude of Christian organizations and individuals who are actively providing for those important needs. To the confirmed atheist, the question is, "What are you doing personally about the poverty, disease, and hunger?" You do have a choice. You can choose to shake your fist at a God you may not believe in for not doing something (which is not true) or you can respond to His way of employing people to become part of the solution to the issues you see. By the way, you can do some great things, but I personally believe you can accomplish even more if you turn to Him and allow Him to empower you. I believe working alongside of a powerful God can get a whole lot more accomplished.
Dave Nutting
If you would like to see if an AOI seminar is right for you, or you would like to help the work of Alpha Omega Institute, please visit our website events page or our donate page. Keep up to date with what AOI is doing.  Thanks for your partnership.