After working so hard teaching and writing, it's always good to know that your work is having an impact on the lives of others, and that they are taking the material learned from you and passing it on to others. Recently we received an encouraging testimony from a woman in Montana. She wrote: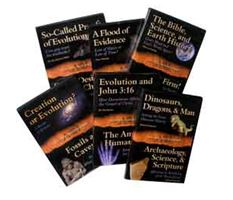 Quite a few years ago [my husband] and I were at a marriage retreat in Colorado – over by Horn Creek at Hermit Basin. [We] were edified by the Creation Series. We have since purchased a video series to share with others and have sent one to a friend. 
This summer my three younger kids and I are traveling across the states and we made a "re-purposed," tall, card-board animal book into the creation story – 7 days – and then your copy of the plan of salvation. We have ministered to almost 100 people so far with the Creation story in two weeks – we have 6 weeks left on our journey. One girl came to Christ, one young man rededicated his life, Christians have had answers to where the dinosaurs fit in. The body of Christ has been so excited that we have shared the story with them.
Thank you for sharing the truth. [My husband] and I do try to financially support you guys as often as possible. This fall we will be starting small groups in our home showing your DVD series to families. Thank you and bless you! 
M.D., Montana (slightly modified)
This family has stepped out in faith and boldness, and God is blessing the endeavor. How encouraging to all of us at AOI! We wish everybody that hears the message of Creation and the Gospel would be so bold and creative. How about praying and asking Him to show you ways you can share with others. AOI's DVD series would be a great place to start! Call AOI at 800-377-1923 to order a set or check out our website to get even more information, and order it there.
"And the things that you have heard from me among many witnesses, commit these to faithful men [and women], who will be able to teach others also." (II Timothy 2:2)
Mary Jo Nutting
If you would like to see if an AOI seminar is right for you, or you would like to help the work of Alpha Omega Institute, please visit our website events page or our donate page. Keep up to date with what AOI is doing.  Thanks for your partnership.