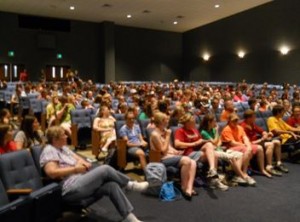 In June, I had the opportunity to teach at the IFCA National Youth Convention which was held on the Appalachian Bible College campus.  Over 370 youth (junior and senior high students), from 30+ churches, attended the conference.  Each year the convention seems to grow just a little more.  This is a good sign since the convention is focused on training youth to be more involved in the church.  The competition was fierce, but in a godly way.  The final Bible knowledge competition went into overtime with the champions winning by only ten points.
It is a great privilege to be involved in the lives of these godly young people.  I had the pleasure to teach sixteen hours while at the convention, sometimes ending as late as 10:30 pm.
Some of the comments are below:
"Thank you for speaking at the convention this week.  I enjoyed all of your breakout sessions, especially the one on astronomy.  It gave me a glimpse of just how small I really am.  It blows my mind that the God of this universe would love me.  The past few months I've really been struggling with committing myself to God's will completely. Last night I did, and your session on astronomy is one of the reasons I did. Thank you so much!"
"Dear Mr. Stepanek, 
Thank you so much for your boldness in declaring the truth in your Friday breakout session.  If you hadn't told me these things, I'd probably never have heard them.  May God bless you for telling the truth."
I want to thank our donors and prayer partners, you really make events like this possible.
Rich Stepanek
If you would like to see if an AOI seminar is right for you, or you would like to help the work of Alpha Omega Institute, please visit our website events page or our donate page. Keep up to date with what AOI is doing.  Thanks for your partnership.