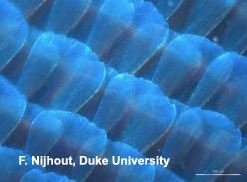 How do you prevent counterfeiters from copying money, drugs, designer clothes and accessories, etc.? Some engineers are turning to the amazing wing of the South American Blue Morpho butterfly for a solution.
The Blue Morpho's brilliant wing color isn't due to pigment. Instead of pigments, the butterfly's wings have complicated scales with very tiny holes that reflect different colors or wavelengths, producing iridescent, shining blue and greens.
The Nanotech Security Corp., in Vancouver, Canada, has copied the design of the Blue Morpho butterfly.  Using a new technology called nano*-optics, they have developed a method to produce nano-holes in silicon or quartz. The process takes from a few hours to a couple of days to produce a master pattern (image), after which a second process grows the image on nickel. From there it can be embossed to any material.1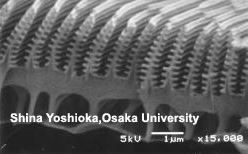 "The entire image could be large enough to be seen from a distance, and, if embossed on high-priced items like designer handbags, would make it easy to spot the phonies," said Doug Blakeway, Nanotech's CEO.2
Because the image would be very difficult to reverse engineer, and expensive because of the equipment needed, it has been stated that the process is 'unlikely' to be counterfeited. Hmmm – that has been said about many types of security … time will tell.
This type of work is yet another example of biomimicry – adapting God's creations for advanced human technologies.
*Based on the scale of nanometers – one nanometer is hundreds of times smaller than even the tiniest bacterial cell.
1 Butterflies Inspire Anti-Counterfeit Technology, Inside Science, Joel N. Shurkin, 6/19/13
2Ibid.
Lanny Johnson
If you would like to see if an AOI seminar is right for you, or you would like to help the work of Alpha Omega Institute, please visit our website events page or our donate page. Keep up to date with what AOI is doing.  Thanks for your partnership.