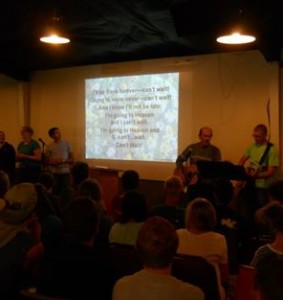 Pioneer Bible Camp just continued to get better.  The campers were just getting started and began asking even more questions.   I believe in part because I took the time to partake in some of their activities. A wise man I knew from Minnesota once said, "people do not care what you know until they know that you care."  How true!
Most of the counselors attending Pioneer Bible Camp are from Bible schools and colleges.  It was an encouragement to dialogue with the counselors as well as the campers.  One counselor made the observation that by reading Genesis literally it would help prevent him from falling into false doctrines and also help him to defend the faith.  One camper expressed his excitement in planning to attend a Bible school so he could learn even more about Scripture.  Another said his goal was to focus on becoming a godly man, and to prepare himself for whatever God has planned for him.  It is always exciting to see young people get excited about the Word!
After I finished teaching at Pioneer Bible Camp, I departed as soon as I could for a six and half hour drive home.  I arrived home at 11:00 pm to unload and re-pack in preparation for my next speaking trip to West Virginia. My plane departed Saturday morning at 9:30 am, and I would not arrive at the airport in Charleston, WV, until 11:30 pm. I had a number of long delays along the way.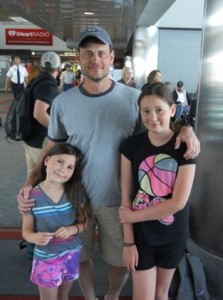 One such layover was in Denver, where I met a father and his two young daughters.  They also had been waiting for quite some time to catch a plane.  His daughters were getting bored.  We got to talking and I informed him that I taught about dinosaurs.  His girls had a number of questions about them, so I did my dinosaur PowerPoint program to answer their questions.  The father had so many of his questions answered that he thought this information would be valuable for his church.  You just never know when you may have a teaching opportunity that helps someone to have a better understanding about God and His creation.  I thank God for such opportunities.
Rich Stepanek
If you would like to see if an AOI seminar is right for you, or you would like to help the work of Alpha Omega Institute, please visit our website events page or our donate page. Keep up to date with what AOI is doing.  Thanks for your partnership.