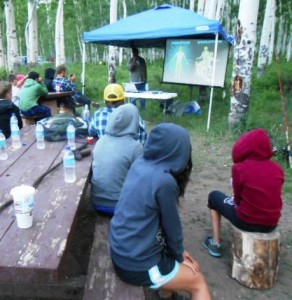 After a 3 hour drive through a hot desert and up a narrow winding mountain road, we arrived at a campground in the Manti-LaSalle National Forest, near Moab, Utah. We were to meet a youth group that was from the Salt Lake City area. We circled around the campground looking for the group, but were unable to find them, so we stopped at the campground host station to see if they had checked in yet.
The host was a very friendly man, who informed us that, yes the group was there, but they were on a hike at that time. He was very helpful, even walking us over to show us their camping spots.
On the short walk, we told him that we were there to teach the youth group. Interested, he asked, "In one sentence, tell me what you will be teaching?"
My wife Marilyn responded, "We are here to teach that God made everything and that it did not happen by evolution."
His response … "Guess I'm going to have to have a little more information than one sentence!"
As I talked with him a short while, I discovered he was a retired 8th grade school teacher (having taught evolution for many years) now traveling around the country "in search of truth." I told him that I had also at one time been in search of truth and had found that truth was not in evolution. As a scientist (geologist), I had found major problems with evolution that I could not resolve. What I had discovered was evidence of a Creator.
It was at that point the he quickly interjected that he had other campground duties, and so began a departure. As he left, I invited him to join us that evening as we shared some of those evidences with the youth group. He said it sounded interesting and he would try.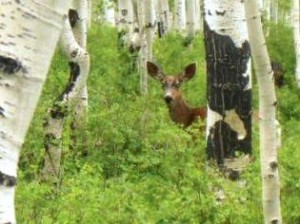 Surprisingly, he did show up that evening for a very short time, far enough away that he could hear some of my talk, but not close enough for interaction. Amusingly, right at the edge of our group was a doe that seemed to be very curious about what I was teaching. It was there far longer than the gentleman!
When the program was over we had to pick up the equipment and take shelter because of rain and wind, and later head back down the mountain, so we were not able to talk to the man again. I am pretty sure he did not hear enough to convince him of a Creator. However, even though it might have been tiny, a seed was planted. Hopefully, that seed of truth might grow in him and he will discover the truth … the truth of Jesus Christ. Over 23 years ago, I was also a staunch evolutionist. A seed was planted and it did grow! Today I am a follower of Jesus, so if it can happen to me, then it can happen to this gentleman as well.
Lanny Johnson
If you would like to see if an AOI seminar is right for you, or you would like to help the work of Alpha Omega Institute, please visit our website events page or our donate page. Keep up to date with what AOI is doing.  Thanks for your partnership.