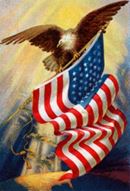 Freedom!  The bald eagle in flight is the very picture of freedom. The bald eagle is our national emblem – a symbol of freedom.  Freedom to try, freedom to soar, freedom to fail, freedom to live life to its fullest.  Our nation was founded on this principle of responsible freedom, based on the premise that all people are created beings "endowed by their Creator with certain inalienable "rights."  But even as we celebrate the birth of our nation this Independence Day, many of these freedoms are being eroded.
Many school children are not free to express their viewpoint without suffering verbal abuse from teachers.  We know of one teacher in the Grand Valley (Grand Junction, CO) who told an eighth grade student he would have her crying by the time the class was over because she expressed a belief in God and the Bible.  Most students in this country are never given the freedom to examine the creationist position; instead they are continually presented with evolution as the only viable "scientific" alternative.  Some have failed classes, received lower grades, been denied degrees, and lost jobs for refusing to tow the evolutionary line.  This is just one of the areas in education where your freedom is being eroded.
It's not too late to regain our freedoms, but we need to get back to our roots.  Freedom is not the right just to "do your own thing" without any limits.  Freedom has no meaning except in the context of responsibility, and that responsibility takes form in the recognition that we are created beings, responsible to our Creator for what we do with the lives He has given us.  The task is not easy, but let us not grow weary in the fight to defend our freedom.
"Those who hope in the Lord will renew their strength.  They will soar on wings like eagles; they will run and not grow weary, they will walk and not be faint." (Is. 40:312)
By Dave and Mary Jo Nutting